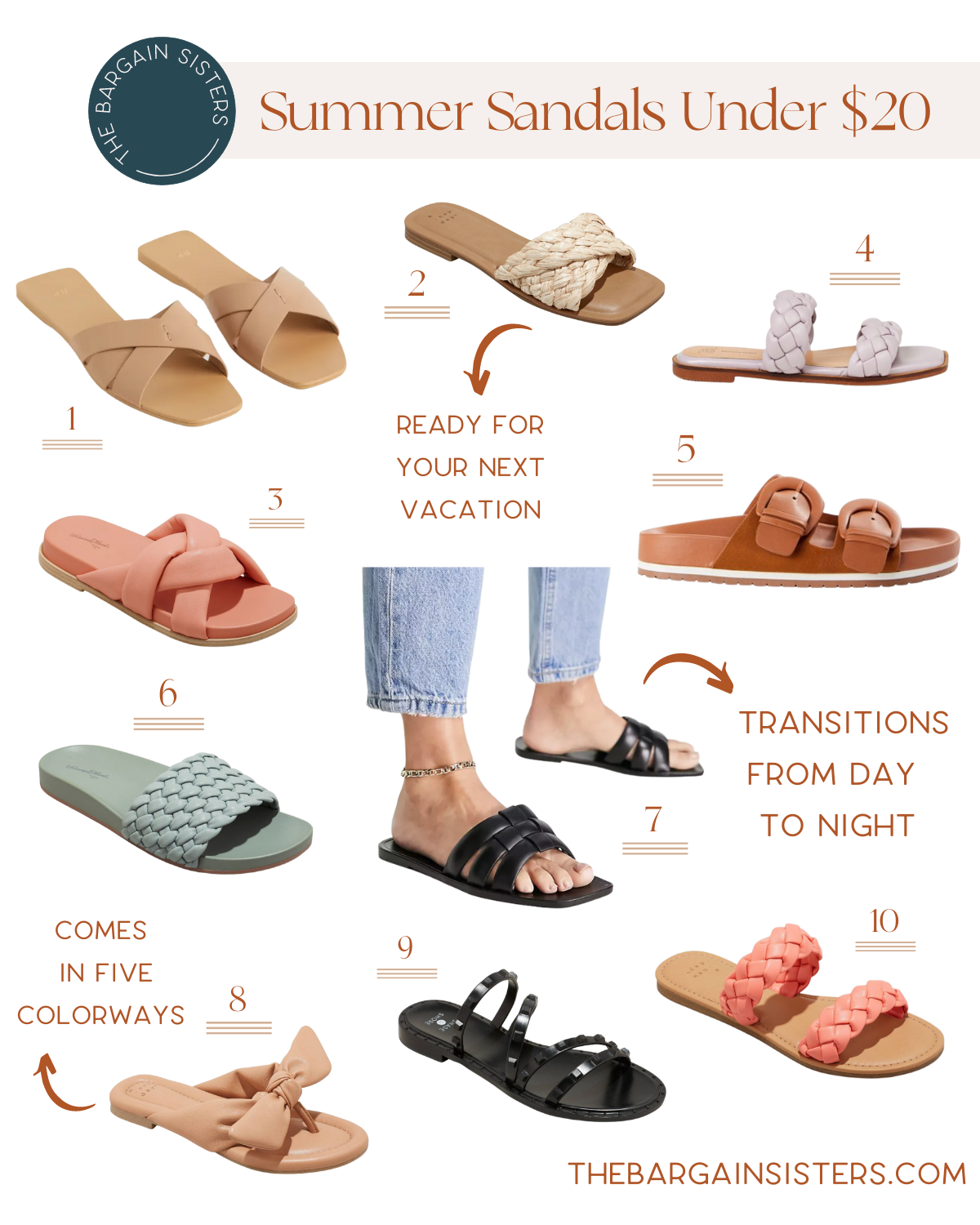 10 Summer Sandals under $20
Sandal season is still going strong, y'all (especially in the South), and we're here to show you our favorite 10 summer sandals under $20! We know you've been messaging us @the_bargainsisters on Instagram and in The Bargain Sisters Group on Facebook asking for more women's fashions and shoes, and we want you to know we hear you loud and clear! The first step (pun intended) is sharing these affordable women's shoes—and we know you'll love them!
Moreover, as we were pulling this list together, we kept the spring and summer shoe trends of 2022 in mind: pretty pastels, braided details, and comfy soles that don't scrimp on style. We're so thrilled to see the jellies shoes from our childhood back and better than ever—especially in more sandal styles. And for adults! Did they have adult jellies when we were kids? We're pretty sure they didn't.
You'll be able to mix and match these cute sandals for vacations, family get-togethers, and wherever life takes you during these warm-weather months. Plus, you'll get to gloat that you didn't have to break the bank to show up in the trendiest styles of the season. We've already talked enough about them, so it's time to show you what we got!
Two words we always like to read together: stylish and comfortable. These affordable sandals (they're under $15!) can easily go from church to a backyard BBQ in one fell swoop. What's more, they come in medium and wide widths and four different colors. Walmart for the win again (and always, pretty much)!
We live for a Birk look-a-like and, honestly? These are even cuter. We love the chunky buckles and cognac color. And, as far as sandals under $20 go, they are a winning choice, coming in at under $17 and ideal for every day. Another Walmart find these can be added to the same cart as the pair above. We get a lot of packages, so as much as we can consolidate—and save a few trees—we do.
If numbers 1 and 2 of our list of 10 summer sandals under $20 had a baby, #3 would be their love child. This sandal is the perfect mix of comfortable and pretty detailing. Plus, it comes in eight pretty colors, perfect for any outfit or occasion. On sale for $15.99!
The epitome of "put a bow on it," these dainty, affordable sandals will be earning you compliments everywhere you go! On sale for under $18, they come in five versatile colors. Plus, they're from Target, and Target has fantastic "end of season" sales that offer even deeper discounts on sandals like these. Sizes sell out quickly, so be quick!
The pretty braiding and this super-sweet pink hue really sold us on these 20-dollar spring and summer shoes. Even better, they're also on sale for under $18! Open toe, open back, and comfy fit that stays on feet? Can't lose. Similar to the above, this pair has even more discounts offered as Target starts adding more fall fashions to its shelves, so pricing is even more in your favor.
This pretty pair of open-design slip-on slides is sliding in (see what we did there?) at number six on our list of 10 summer sandals under $20. The raffia weaving detail really adds to the boho vibes of this pretty shoe, doesn't it? The pair rings in at $19.99—with even more end-of-season discounts added-and comes in four colors!
These comfy faux-leather slides from H&M go with everything! Grab them in either tan or black (or both) and rock your warm-weather 'fits all summer long. The best part about these slides is their price point. They ring in at just $12.99 and boast an almost solid five stars—with 75+ reviews!
If this coral hue doesn't make you smile while thinking of a tropical vacation, we don't know what will. Another Target find (Target for the win, always!), this fun pair is perfect for everything from casual warm-weather-wear to shimmying on the dance floor at your next cousin's wedding. They slide in at a cool $19.99, with extra 5% savings when you use your Target Red Card.
If you thought we were done with the jellies, you thought wrong. We just can't get enough adult jelly options. These shoes are just so much fun! While they're in a classic hue, the material makes them a joy to wear. Plus, you really can just slide them on and go. For $15, why wait?
Well, since we were riding a jelly high, we had to round out our list of 10 summer sandals under $20 with these strappy jellies. The textured look on the straps adds a dose of chic to them, and we love that they can be easily dressed up or down. Grab your favorite of the four hues on sale for just $15.99! (Plus more discounts for a now end-of-season style. Big win!)
As always, we love to see what you get, so be sure to tag us in your social media posts and add #thebargainsisters to your photos so we can see. We'll see you for our next installment of women's fashion finds. What would you like to see next? Sneakers? Summer shorts? Sunglasses? Fanny packs? We do love a fanny pack.
Until then, we'll be busy loading our carts with all of these fun finds! By the way, we'll be showing them off in our Instagram stories (@the_bargainsisters) whenever we wear the pairs we purchased from this list. We hope you'll do the same. In the meantime, keep checking back because we'll share our thoughts and our outfits. We're not exactly fashion bloggers per se, but we do have fun putting together "1 Dress, 2 Bodies" Reels, and test driving different t-shirt and jean combos. In our opinion, you can never have enough of any of them.
Happy shopping and jelly-wearing,
Cassie and Ali
See Also: 8 Summer Sandals Under $20