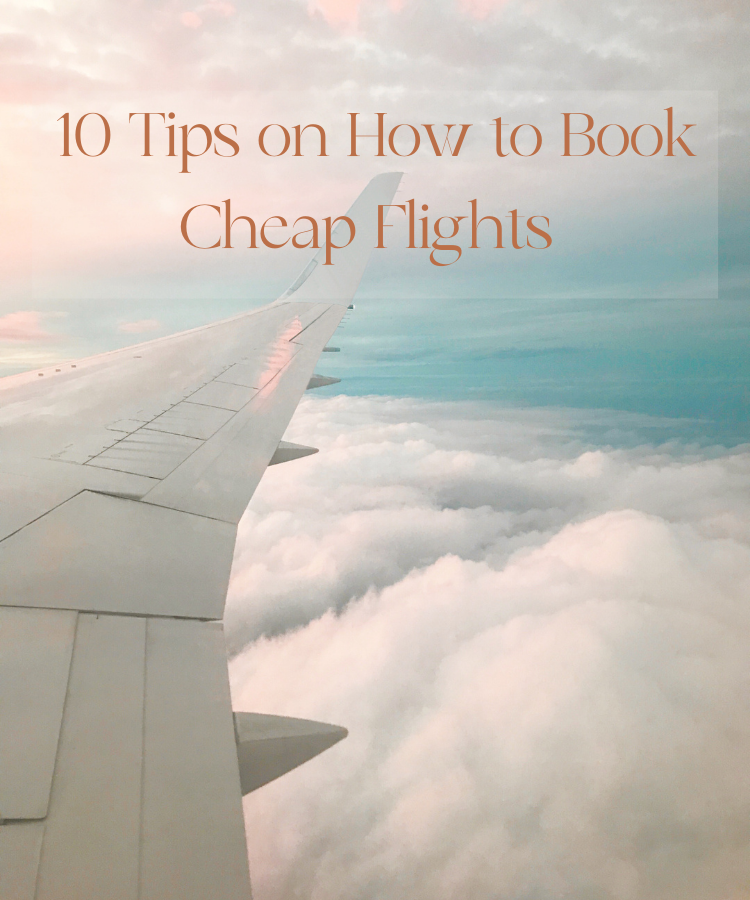 10 TIPS ON HOW TO BOOK CHEAP FLIGHTS
Our bargain hunting is expanding into travel territory. We have big families and we love vacations but we know that airfare for these many people can quickly get expensive. However, we've learned some tips and tricks to staying on the budget reserved for airfare. So when it comes to finding cheap airfare, one thing is for certain. If you don't want to pay full price for an airline ticket, you really don't have to! This means that you can easily find cheap airfare with these 10 tips on how to book cheap flights.
If all you have to do is spend about 30 minutes of your time to save HUNDREDS of dollars, you would, wouldn't you? These simple tips and tricks for saving money on flights really do work!
1. How to find cheap airfare
First things first, when you want to find cheap flights, the internet is going to become your best friend. You can not only monitor the pricing, but you can also compare cheap flights with just a click of a button. There are many sites that allow comparing all the websites deals in one place such as Kayack.com.
2. Sign up for airline notifications
Stay in the loop and sign up for their email. This is a great way to get discounted flights! If the airline is running a special or looking to fill the plane, they may offer a crazy good airline price that you'll need to be in the know to get!
Airline notifications usually come from companies that are considered third-party bookings. You'll get an alert about a discounted flight and have to be ready to book fast.
3. Clear your cache for cheap flight booking
Everyone knows that anything that you look for on your computer will then start popping up in your search feeds constantly. The same will happen when you're trying to book a flight! You'll also want to clear the cache so that the "cookies" don't remember you and try to raise the pricing. There are several sites debunking this myth but we've suspected yo-yoing prices when we publicly search!
4. Ask for a refund if your flight suddenly goes on sale
Flight sales happen, but what about all those people that already paid full price for their ticket? If you stumble upon a drop for the same exact flight and that really does happen, talk to the airline and see what options you have. They may give you a refund or a travel credit for the difference. Doesn't hurt to ask!
5. Book directly through the airline
There are so many third-party booking companies out there that it can all get quite confusing and overwhelming. For the best possible pricing, call and book through the airline.
They'll be able to offer you the best price and will also be aware of any specials or deals that may be coming down the pipeline. Also, there are more privileges like the one mentioned above!
6. Pay attention to the day of the week
Some days are more expensive than others when it comes to booking a flight! If you're going to be flying on a Friday or Sunday, just be prepared to pay more. These are huge travel days for many, and that alone causes the price to hike. Flexibility on the day and time is key!
7. Use a budget airline
Just like most things in life, you get what you pay for. This is why budget airlines cost drastically less. Not only do they offer nothing on board the flights as far as frills, but they also have limits on certain things that often rack up costs like extra baggage, etc.
If you're open to flying on a budget plane, you'll find that it's quite simple to save a ton of money. Beware that they makeup these fee differences by charging you a luggage fee, even for a carry-on!
8.Fly during the week
If you can be flexible in the timing of when you need to fly, you'll be able to save a bunch of money! Weekday flights are no different than flying on the weekend except that they'll be at a more affordable rate.
While you might think that you need to arrive on a Saturday, waiting one or two more days can easily save you hundreds upon hundreds of dollars.
9. Be flexible in your flight details
This one might be harder to do, but if you're flexible in when you launch and when you land, you'll be able to save some money. Anything during the week will be way less crowded than it would be on the weekend. Plus, changing your preferred airport location and number of connections also apply to lower the prices.
As you can see, saving money on flights can be done by anyone, any time of the year! Stop paying full price for airline tickets when you can save a ton of money to use for something else!
10. Plan for off-season travel
We know everybody wants to vacation during the heat of the Summer and the holidays but unfortunately airlines are privy to that. Certain destinations are hot spots during the Winter and Summer months, therefore spiking everything from airfare to hotels. We recommend booking a flight during off-season to really save big.
Whether you are booking a flight for business or leisure these 10 tips are great to keep in mind the next time you are planning to travel. Check out our Travel Deals for the best money-saving travel bargains. Leave us a comment with your top tip for booking a cheap flight!