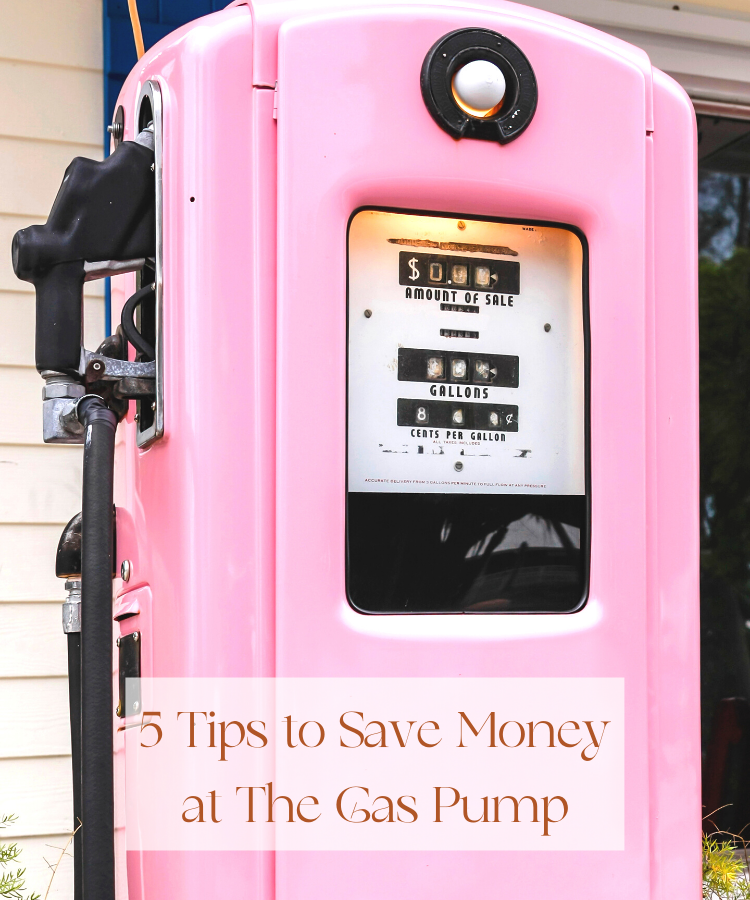 5 Tips to Save Money at The Gas Pump
We spend most of our days in our cars, and they're certainly not super-eco Teslas (yet). We're either running a carpool, taking one of our kids to practice, or refueling on DC (for us) and gas (for our vehicles). And, if you're driving past the gas station signs as much as we are, you know gas prices are crazy high. We've committed our time—outside of our cars, and sometimes in them, too—to providing our community with the best frugal living tips, and that includes our 5 tips to save money at the gas pump.
As always, we'll share any other deals and gas-saving tips in The Bargain Sisters Group and on @the_bargainsisters, so make sure you're following us on whatever platform you like best to stay in the know.
Finally, before we dig into the 5 tips to save money at the gas pump, we wanted to tell you we're excited about them because we hadn't thought of some of them ourselves. So, thank you for inspiring us and helping us save on gas, too!
1. Use a Gas station locator App
One of the best ways to money on gas is by using a locator app. GasBuddy is the most well-known of the bunch and if you drive a lot, you probably use a navigation app like Waze that calls out gas stations, too. Some people even use a combination of apps to find the best price per gallon. You do you! Here's a list of the top apps for saving money on gas:
AAA TripTik Planner: This app for AAA members helps you plan your road trips and save on gas on longer excursions
Dash: People who manage a fleet or drive for a living will love this app. It'll tell you everything about your car (granted it is the model year 1996 or newer) and shows the cheapest gas prices for you as well
Drivvo: While gas savings isn't the focus of this app per se, it's a great option for you if you drive to make money (Uber drivers, for example), because it tracks your vehicle expenses
Fuelio: This gas-saving app has a slick interface and offers multi-vehicle tracking. It's perfect for the data geeks in your house—and we say that with love!
GasBuddy: Super-easy to find cheap gas and offers a large coverage area, but is attached to your checking account, so if you use cash-back or fuel rewards cards, you may prefer one of the other apps
Gas Guru: Simple savings right in your pocket. Very straightforward and helps you save money on gas by finding the cheapest per gallon near you. No rewards
Geico Mobile App: If you're a Geico member, you will love this app and its accurate gas prices
GetUpside: Earn rewards/cash back, and stack them with your credit card rewards. Coverage is lower than with other apps, though
These apps are available for both iPhone and Android users.
2. Find Warehouse gas
If you know us, you know we're suckers for warehouse prices. They're the best! Memberships at Costco, Sam's Club, and Walmart+ all give you extra savings at the gas pump. Truly, one of our overarching frugal living tips is to get yourself a warehouse membership. We like that you can stack the rewards with them, too. At Costco, for example, if you have their Visa credit card, you get extra points (and money-back annually) when you use their card at their gas stations. This brings us to…
3. Use fuel rewards credit cards
The best credit cards for gas rewards are always changing. We like to look at Nerd Wallet's latest listing (they update it monthly!) to see what they recommend and what might be best for our personal situation. You can find that here.
We know a lot of you who read our blog and follow us on social media are moms and Nerd Wallet recommends the Blue Cash Preferred® Card from American Express for families, so keep that in mind. Additionally, if you want to max out your cashback, they like the Citi Custom Cash℠ Card.
Ultimately, even if you're looking for the best credit card for gas purchases, extra points at the pump and cashback play a big role in that decision, too. More money in your pocket means more you can spend on whatever you want, including fuel.
Do you have a gas card? Which one do you use? Comment below so other people can make decisions for their homes!
4. Pay cash at the gas pump
Okay, so this tip to save money at the gas pump may seem like a no-brainer because we always see the cash price for gas posted for a few cents off per gallon, but we hardly ever carry cash anymore. Well, taking the time to go to an ATM or get cash back at the grocery store, go inside to pay, and start fueling may be one of the best ways to save on gas right now. And, hey, if you are a person who already carries cash, it'll be easy for you! Isn't it funny how that used to be so normal and now it's all flipped to a swiping lifestyle? Our parents used to hand us a $20 for the week when we first started driving and that got us far.
Times really have changed!
5. Fill up early in the week
The last of our 5 tips to save money at the gas pump is one we didn't know until we started researching for this post: filling up on a Monday or Tuesday. Did you know those are the cheapest days to buy gas? Based on data from GasBuddy, the app we mentioned in our section on best gas-saving apps, gas prices become more volatile as the week progresses. Stations are quieter, too, so filling up early is key to how to save money on gas.
So, will you be using any of these tips? We're already getting as intentional as we can about filling up early in the week and using our rewards cards and warehouse memberships. Our husbands have been all over the apps. We'd love to hear from you about how you're saving, so be sure to tell us in the comments.
Save on!
See Also: Amazon Prime Price Increase and a trick to save money