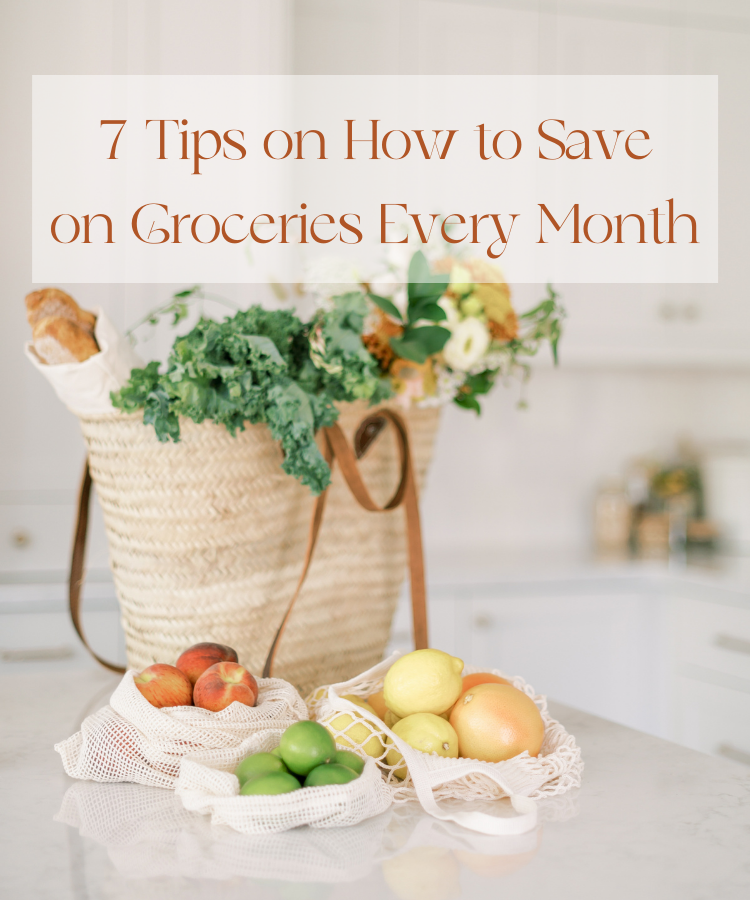 7 Tips to Save on Groceries Every Month
Like many things we're spending extra money on right now (thanks, inflation!), groceries have become quite the hot topic. As a result, we're all looking for new and different ways to save on our weekly food bills. Since we are professional bargain hunters, we wanted to share our 7 tips to save on groceries every month.
You'll see in this list that we mention a few items that can be bought in bulk. As we see deals on those, we'll share them on @the_bargainsisters and in The Bargain Sisters group, so make sure you're following us in both places to be the first to know.
Additionally, there are two other blog posts we wrote on food savings you'll probably enjoy: How to Stockpile Food on A Budget and Cheap Snacks To Buy In Bulk Your Kids Will Love. Bookmark them for the next time you need shopping ideas, especially if you have kiddos!
Now, onto the tips.
Grocery Tips for Saving Money
We shop a lot and feel like we spend a lot on groceries (who doesn't?), so this guide was overdue for us, too. Our main goal with it is to help you find grocery savings that allow you to make delicious meals to feed your families. And, as always, if you have tips you'd like to share, please add them in the comments!
1. Use apps to Save Money on groceries
Pretty much all of our favorite stores have apps that give you extra savings on groceries. Some of our favorites are the Target Circle Rewards Program, the Walmart app (we love Walmart+, too. We find it pays for itself quickly), Sprouts, Harmons, Kroeger, Sam's Club, etc.
In short, if you're not using apps for your favorite grocery stores and clipping coupons, you're probably missing out on some good savings!
2. Meal Plan + Make a list of groceries for The week
Our second tip to save money on groceries is to meal plan and make a list of groceries for your shopping trip. These two things usually come with a budget, too. We like to think about ways to stretch one thing out longer: roasting a chicken on Sunday that you can use in chicken soup on Monday, chicken tacos on Tuesday, and so on. We keep our meals pretty simple, but if you are looking for cheap recipe ideas, there are tons online and in many recipe books you can get from the library for free.
With recipe books, we have fun flipping through pages with our kids. It's a great way to involve them in meal planning, budgeting, grocery shopping, and cooking. They're able to see the whole process and have fun along the way! Make it a part of your weekly routine and it'll feel like an easy, good time for everyone.
3. Switch to store-brand food items
We love our Cheez-Its as much as the next person, but it's worth considering store-brand food items for some of the things you're open to exploring and saving money on! In particular, we've had quite a bit of success with self-care items like soaps, lotions, and toilet paper. Cereals tend to have lots of good store-brand options, too. Same with juices, dairy, canned sauces/fruits/veggies, etc. Build the brands you love into your budget and be open to trying store-brand for others.
4. Look for grocery coupons
Do you throw out all the grocery coupons you get in the mail? Don't! They offer TONS of savings, and they're another way to get your kids involved in the meal planning process. Mark the things you're interested in and ask your kids to cut them out (if they're old enough). They'll love practicing their cutting skills for you.
If you're interested in finding more coupons online, this article lists out 61 sites for free printable grocery coupons.
Additionally, if Amazon Fresh is available in your area, they always have coupons and sale items you can add to the cart weekly.
5. Try A Delivery Service
There is a misconception that grocery (or meal) delivery services are more expensive than going to the store and our response to that is it depends. If your family has food restrictions, we've had great success with Thrive Market, where you can search by diet. We also love Imperfect Foods, which gives you discounted prices on "ugly" produce that would otherwise get thrown out because it's not pretty enough for the grocery store. They deliver for free if you spend $65+!
Similarly, if you're low on time, a meal-delivery service could be exactly what you need. There are so many out there now and price comparison, as well as how much prep is involved, are key, but if your time has become expensive and you don't want to think about what you're cooking each day, these meal delivery services can give you more back than just cost. We like to sign up for discounted trials and cancel if they're not working for us. Something to consider!
6. Buy in Bulk
If you've been following us for even a week, you'll see we love buying in bulk from brands like Augason. We listed out all of our favorites in our Stockpiling Food on A Budget blog and truly swear by that PB powder, especially for smoothies for our kids.
Speaking of kids, they eat snacks like nobody's business, so, as we mentioned earlier, we wrote a whole roundup for that, too. This is yet another instance where our Amazon Prime membership pays dividends.
7. Don't Shop Hungry
Last but certainly not least, try to shop on a happy belly vs. an empty one. We tend to buy more when we're hungry, and often those purchases are not on the pre-approved list. We know it's hard! We do it ourselves. Baby steps. Be kind to yourself and your wallet will thank you.
Start stacking those grocery savings
How'd you like these tips on how to save on groceries? Many of them were new or good refreshers for us and we hope they were valuable to you. As we mentioned earlier, we'd love to hear your tips, too! Comment below and help everyone save more.
Happy shopping,
Ali and Cassie