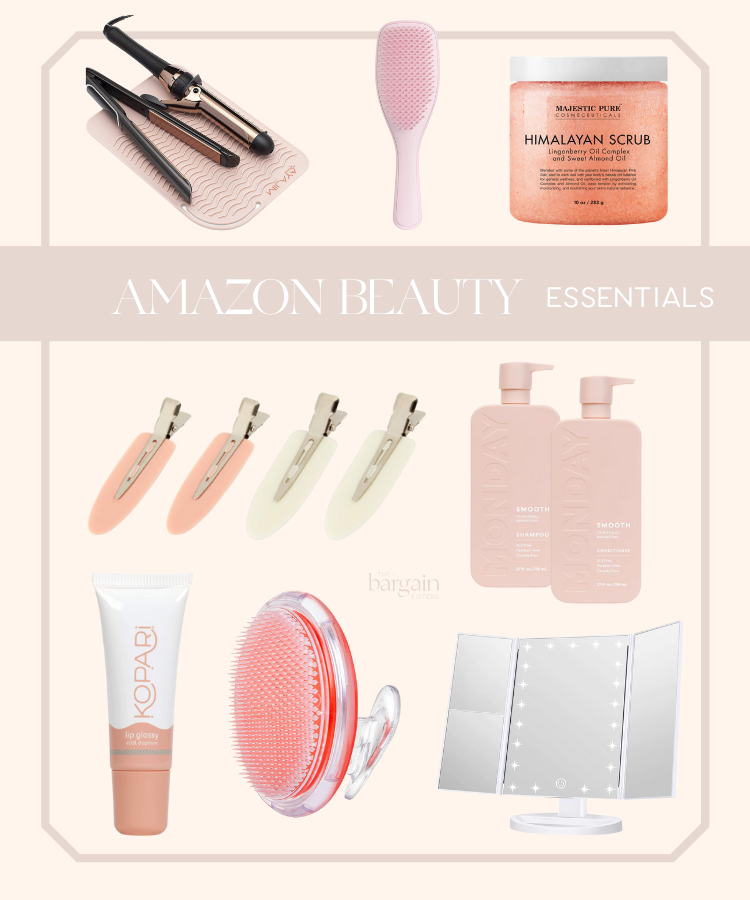 Amazon Beauty Essentials
Amazon is the place for great finds and the best deals. We are sharing our 8 favorite beauty essentials and haircare products that we would easily rate 5 stars.
No Dent Clips
Keep your hair out of your face while doing your makeup with these no-crease hair clips, specially designed not to bend or leave a mark. $5.99 for 8.
Salt Body Scrub
Detoxify and exfoliate with this rich body scrub made of Himalayan pink salt and enriched with lychee berry and sweet almond oil. The impressive blend restores skin leaving it rejuvenated and fully hydrated. $14.98
Heat Pad
Safely lay your hair hot tools on a silicone mat that protects counters. The heat resistant and non slip pad rolls for easy storage. $9.99
Tangle Teezer
The brush tackling all tangles is this pink one. Gently bushes through all knots while massaging the scalp. It's especially great to brush out ringlets after using a curling iron. $13.99
Nude Pout
Coconut gloss kicks dehydrated lips goodbye. Packed with 100% coconut oil, Vitamin E, and Shea butter this nonsticky formula is uber hydrating, vegan, and sulfate-free. $12.99
Mirror, Mirror
Blending will become easier with a lighted mirror. The vanity LED trifold makeup mirror has a 1x, 2x, 3x magnification modes and provides excellent adjustable brightness for your beauty session. $24.99
Happy Monday
We came for the bottles but stayed for the fabulous conditioning. Monday makes shampoo and conditioners that smooth and soak hair in ultra hydrating ingredients minus the stuff you don't want such as sulfates and paragons. Plus it's cruelty-free which we love even more. $29.99 2-16oz bottles
See Also: Best Cheap Makeup on Amazon