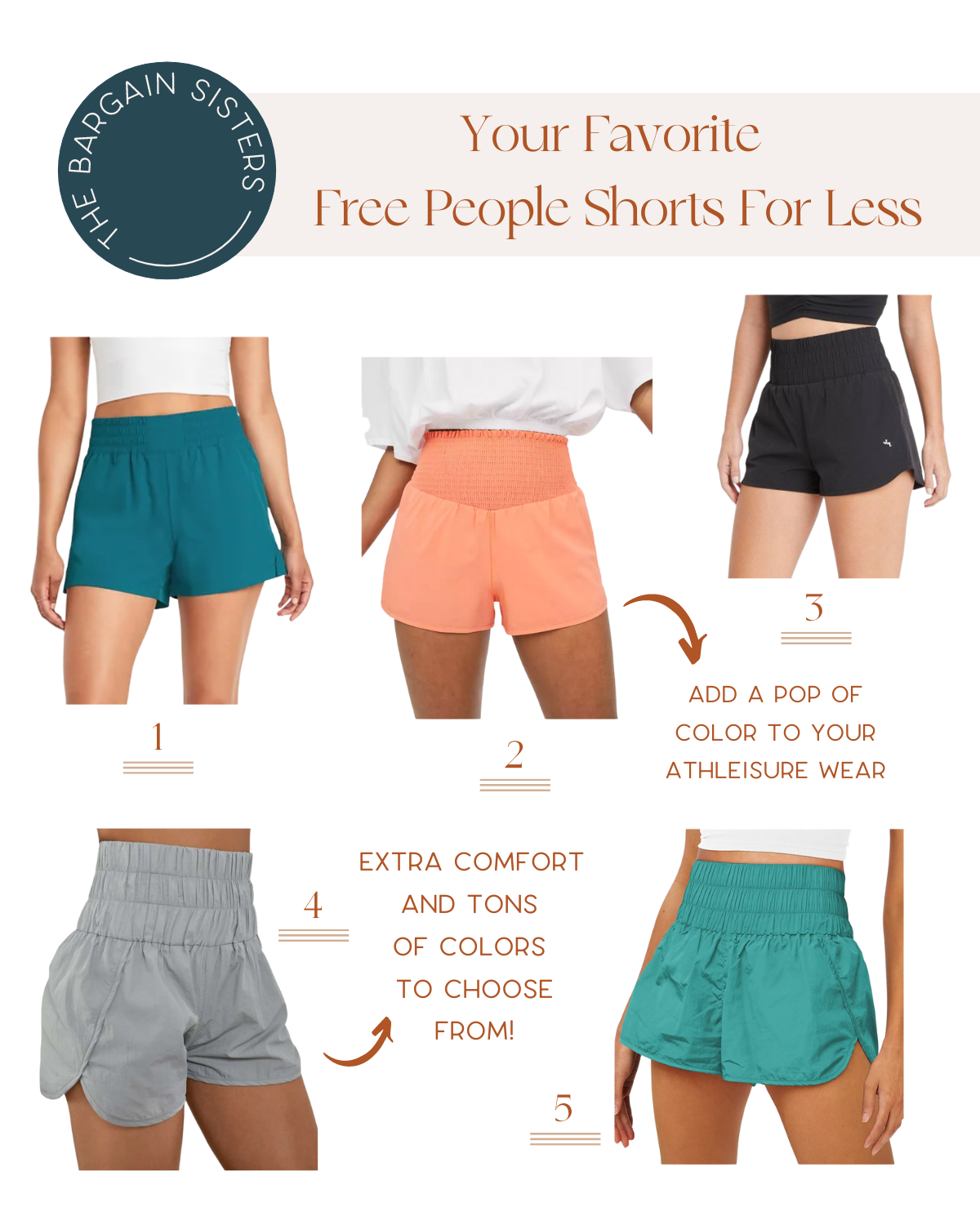 Your Favorite Free People Shorts—For Less
You've seen them on all the bloggers and wanted them for yourself, but you've been debating. $40? For workout shorts? What better way to try out the now-iconic Free People The Way Home shorts than to get them at a lower price! We found your favorite Free People shorts—the high-waisted athletic ones—for less. Free People style on a budget has never been easier.
Remember, we are The Bargain Sisters, so if we know you love something, we'll keep our eyes peeled for deals on them. We'll share any additional discounts on the five pairs of high-waisted athletic shorts you see here (the ones that are total look-a-likes of The Way Home shorts from Free People / FP Movement) on @the_bargainsisters on Instagram and in The Bargain Sisters Group on Facebook.
High-Waisted Workout Shorts
High-waisted workout shorts have been having a moment, haven't they? It's seemed to us that Free People / FP Movement has been leading the charge with them, too. They come in a bunch of pretty colors, often go on sale, and the combination of high-waist + thick band at the top makes us feel nicely sucked in. If you've had children (and even if you haven't), you understand what we mean! We love these Free People shorts for our tummies especially.
However, as we noted above, these bright, high-waisted shorts still ring in at $40 and up even when they're on sale. So, we did some digging and found our top five pairs of Free People shorts look-a-likes on a budget. Most of our picks come in at around $20, which means you can try on the boho-style Free People gym shorts without going all-in with your budget.
Free People Style for Less
Since we know you've been wanting to find your favorite Free People shorts for less but may not have had the time to search for the best deals on them, we pulled together a list of our top five. You'll see lots of bright colors, great price points, and easy shipping reflected in every option. So, let's get into them, shall we?
High-Rise Woven Shorts
As far as we're concerned, the Joy Lab line from Target can do no wrong. This pair of bright, high-waisted shorts feature a 3″ inseam and eight color options. $24.00 and well-stocked in sizes up to XL. Plus, they have POCKETS.
High-Waisted Athletic Shorts
You're really going to be feeling your most athletic self when you click through the 26 color and pattern options for these high shorts. They're made out of a combination of nylon and Spandex, so they very closely mirror the look of the Free People The Way Home shorts that have become so popular. Ranges from $23.99 – $26.99.
High-Waisted StretchTech Shorts
As you may know, Old Navy (in addition to Walmart, Target, and Amazon) is one of our main go-to's, so we were thrilled when we saw they had your favorite Free People shorts for less, too! With nearly 700 reviews and almost a solid five-star rating, we can tell people really love the Old Navy high-waisted short options. There are nine colors and patterns to choose from, and sizing goes up to 4X. Oh, and did we mention they come in Tall and Petites, too? $26.99 + an extra 30% off at check-out.
High-Waist Tulip-Hem SHorts
By far, the best deal we found on your favorite Free People shorts was at SHEIN. These high-waisted workout shorts have a super-high and thick waistband, come in two color options, are available in sizes S-XL (US 12), and ring in at just $9!
Free People Gym Shorts
As you can see, you don't have to spend $40 per pair to achieve the same look as your favorite Free People shorts give you. Start with one (or a handful) of these options and go from there. We're confident you'll feel just as cute—and maybe even cuter (especially since you got a great deal!)—in these options than in the famous Free People gym shorts that are always going around on Instagram.
If you snag a pair, let us know by commenting below or by tagging us on Instagram. We always love sharing in your shopping and deal-finding adventures!
Remember, you don't have to actually work out to look the part. *wink*
Happy Shopping,
Ali and Cassie
See Also: The Best Amazon Subscribe and Save Deals