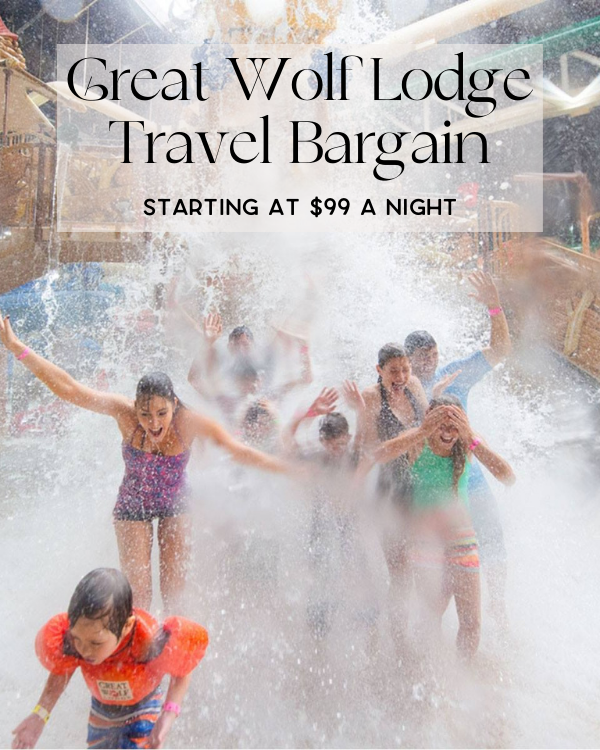 Great Wolf Lodge Travel Bargain
When it comes to kid friendly hotel deals, Great Wolf Lodge travel bargain is at the top of the list. Not only is it one of the best options for a fun and clean indoor waterpark, but everything about the hotel is focused on families and kids!
I've wanted to visit Great Wolf Lodge for a while now. Cassie took her kids and raved about it. There's one about an hour away from my home, seeing these great bargains on stays there is really giving me the itch to grab my kids and GO!
There are so many different activities for kids of all ages, not even including the wonderful water park. You never have to leave the hotel for food, fun, and entertainment. I love knowing that when I want to play Spring getaways, we're so fortunate to have one of the best kid themed hotels near me to get to easily!
Great Wolf Lodge has locations all over the country, and there are so many days you get to choose from. It would be such a wonderful Easter getaway!
How fun would it be for the Easter Bunny to visit while you're staying at a water park?
So grab this bargain, pack your things, and get ready for a fun family stay at Great Wolf Lodge!
GREAT WOLF LODGE AMENITIES
We were amazed at all the amenities that were offered at Great Wolf Lodge. I swear – they literally thought of everything!
What we really loved was that we had options. Because we all know that not everyone agrees on what they want to do all the time, options are always a good idea!
The top amenity in our mind was the waterpark. It was super clean, indoors, and had all sorts of slides and activities for kids of all ages. (and waterpark passes are included when you book a room!)
After we played in the water all day, I noticed that we were ready to wind down a bit but not "quite" ready for sleep.
With multiple food options on-site, we were able to fill our bellies and gear up for more fun. The Great Wolf Lodge food prices do vary depending on what you order. They have casual options like pizza and burgers, or you can go up in pricing and choices as well.
Then, just when we thought the night was over and it was time to get ready to rest up for bed, there was a dance party and a bedtime story happening in the lobby. The kids were THRILLED, and it was literally the perfect ending to an amazing day.
Pro Tip: We found out that we wanted to share with you that even after you check out of Great Wolf Lodge, you can still stay for the entire day at the water park if you'd like!
GREAT WOLF LODGE LOCATIONS
For the most part, Great Wolf Lodge room rates seem to stay pretty consistent and competitive across the board. There are times that the prices will peak (hello spring break!), but other times, you can expect to pay on average between $99-$179.
If you're a family of travelers, it's fun to see if you can stay in as many Great Lodges as possible! Currently, here is the list of locations for Great Wolf Lodge:
Anaheim, CA
Colorado Springs, CO
Ground Mound, WA
San Franciso, CA
Scottsdale, AZ
Atlanta, GA
Charlotte, NC
Grapevine, TX
Williamsburg, VA
Chicago, IL
Cincinnati, OH
Kansas City, KS
Minneapolis, MN
Sandusky, OH
Traverse City, MI
Wisconsin Dells, WI
Baltimore, MD
Boston, MA
Ponoco Mountains, PA
Niagara Falls, Ontario
You can literally plan a trip traveling across the states and stay at Great Wolf Lodges all the way! How fun of a family road trip would that be?
Great Wolf Lodge Reviews
The reviews are extremely positive! As a family who travels a lot, I rely on customer reviews pretty heavily before booking.
The top reviews made a note of the following perks:
Clean rooms
Spacious suites
Fun for kids and adults
Great value for cost and activities
Free parking onsite
Easy access to the waterpark
Great food selection
Friendly staff
Good lifeguards in the waterpark
Fun and engaging activities all the time
Easy access to other local attractions
Be sure to read the reviews of the lodge that you're looking at staying at so you can get an idea in your head of what to be ready for! If you're like me, being prepared in advance is the way to go!
Great Wolf Lodge Groupon discount
Groupon is one of the top places to find a great discount for your stay at Great Wolf Lodge. There are literally almost weekly, if not monthly, deals being offered all the time!
Make sure to read the fine print before booking so that you know if there are any blackout dates that you're going to have to be aware of. But from what we've found – the Groupon deals are a GREAT value and a super simple way to take the kids on a fun trip!
Prices and locations we are seeing
Keep in mind that these Great Wolf Lodge room rates will vary but this will at least give you an idea of how to budget.
You can see that there are always options typically on how to receive a Great wolf lodge discount! Why pay full price if you don't have to? (We've found that Groupon offers one of the best discounts but do your research – and let us know if you find something cheaper!)
The next time you're planning a family trip, book a vacation to Great Wolf Lodge. With the indoor waterpark, delicious food, and amenities, you can't go wrong with the value! Get ready for a night or weekend of family fun!