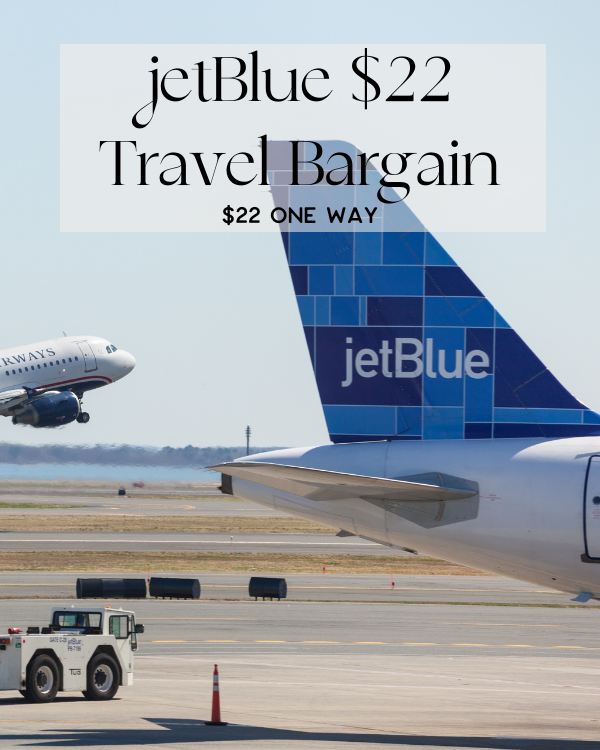 jetBlue $22 Travel Bargain
jetBlue's anniversary sale is happening NOW!!!! One way tickets are $22, departing from all over and traveling to some fun places. If you have the travel itch, hurry and jump on it, because for the price of dinner, you can discover a new place. Travel February-April 2022, this price is only valid today and will end at 11:59pm ET.
How to book Jetblue ticket
Go to jetBlue's promo page.
Choose the city you want to depart from.
Book your trip through the link JetBlue gives you.
cities and prices we are seeing
From
Albuquerque
Atlanta
Austin
Boston
Buffalo
Burbank
Burlington
Charleston
Charlotte
Chicago
Cleveland
Dallas
Denver
Detroit
Fort Lauderdale
Fort Myers
Hartford
Houston
Jacksonville
Las Vegas
Miami
Minneapolis
Nashville
New Orleans
New York City (JFK)
New York City (LGA)
Newark
Ontario
Orlando
Palm Springs
Philadelphia
Phoenix
Pittsburgh
Portland
Providence
Raleigh
Reno
Richmond
Rochester
Sacramento
Salt Lake City
San Antonio
San Diego
San Francisco
Savannah
Seattle
Syracuse
Tampa
Washington D.C. (DCA)
West Palm Beach
to
Caribbean
Ecuador
Mexico
United States