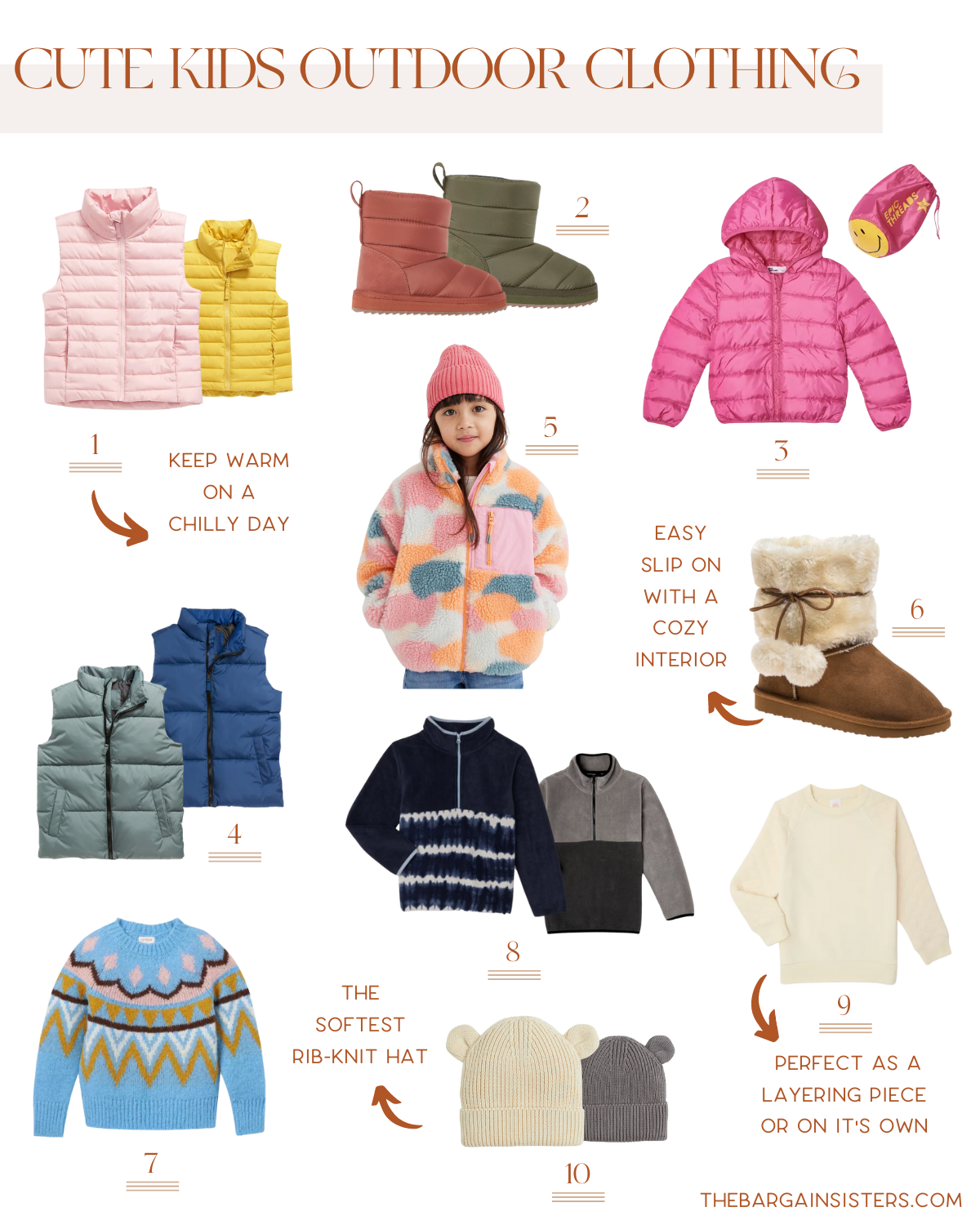 Cute Kids Outdoor Clothing Deals
If you're like us, you're getting winter clothes for your kids at the sight of the first snow. There's just so much else to think about! Sometimes we add more to-dos to our lists, and new kids' snow jackets don't tend to make it very high on them. We may be from Utah, but it might go without saying that we're not active skiers. So, take that for what it's worth.
We don't worry about not pre-planning, however, because we have our fingers on the pulse of where to find kids' outdoor clothing easily and for a bargain. Also, if we ever see a cheap kids clothing clearance specifically for outerwear, we'll be sure to share all the deals we find in The Bargain Sisters Group and @the_bargainsisters. Make sure to follow along to catch the latest and greatest!
Check out our roundup of the bargains we found on winter clothes for kids. There's certainly something for everyone on this list!
Could you just swoon over how cute this kids' teddy bear jacket is? Not only is it super-warm, but it's also super-cute. Plus, it's among the most affordable kids' winter wear we've found. This fluffy jacket is just $24.99 and available in a huge range of sizes!
Warm, chic, and lined in soft velboa—you AND your littles are going to love these boots. Moreover, the high-leg with a loop at back helps kiddos get boots on and off with ease. Just $19.99 and come in four colors!
Okay, this Epic Threads jacket is the epitome of a cute kids outdoor clothing deal. It's just $16 (regularly $40)! It's packable with a matching bag, comes in seven colors and patterns, and is priced so well, you might want to get it in multiple sizes. If you need a smaller size for a baby and toddler, then we've got a great puffer jacket for baby and toddler deal too!
When it comes to cute kids outdoor clothing, Old Navy really delivers. These vests are SO warm and are an extra 35% off at check-out. Tons of sizes and four colors. Run!
If you want a slightly lighter-weight puffer vest, this is your best bet for cute toddler girl winter clothes on clearance. They're super-warm and an extra 35% off at checkout!
Little girls will love these cozy winter boots and you'll love that they're under $20. Moreover, they're easy to slip on, which is great for kiddos!
As far as cute kids outdoor clothing deals go, this is a surefire winner. How could you resist your little one in a fair isle sweater?! This recycled polyester staple comes in six different patterns and a ton of sizes. Grab multiple for under $20 a pop!
Okay, we know you come to The Bargain Sisters for fashion bargains, and do we have the bargain for you with these quarter-zip fleece pullovers? They're under $5! Yes, you read that right. Under $5 per quarter-zip. Stock up!
You can never have too many sweatshirts. That's a fact. And, especially not when they're just $10 like these cute clearance crewnecks are. Choose from five different colors!
We are suckers for anything with ears! Enter: these sweet ribbed beanies for just $6.99 each. They come in three colors and are the perfect kids outdoor clothing accessory.
Is there anything you're eyeing that you didn't see listed here? Be sure to leave us a comment of what you're loving and what you want to see more of. We're always bargain hunting for you!
Happy shopping!