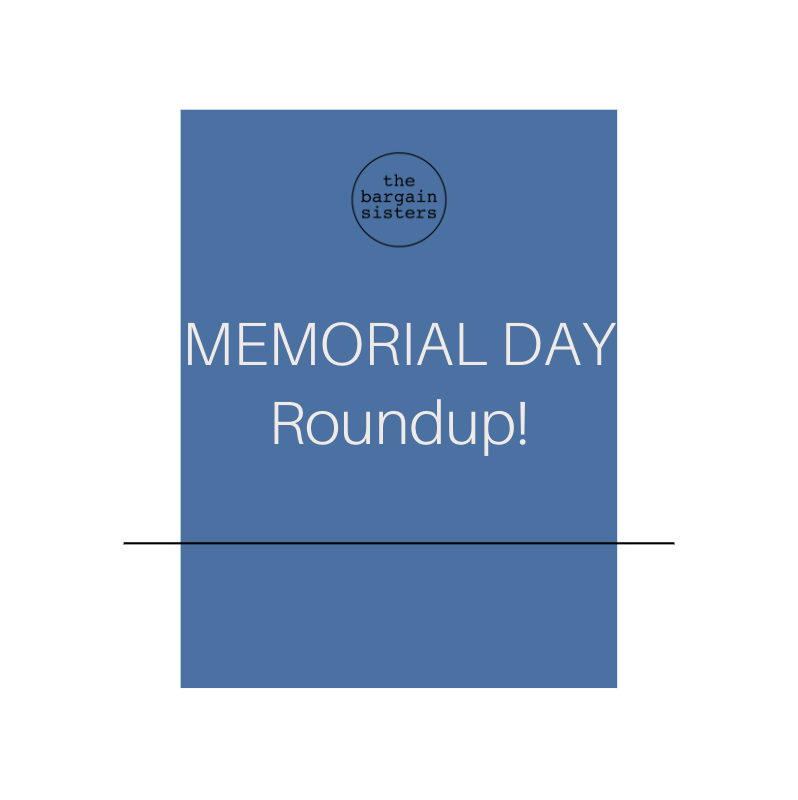 Memorial Day Sale Line Up
This article provides you with a list of all the top deals at the Memorial Day sale and what you can expect to find. If you're planning to shop this Memorial Day weekend, you'll want to keep an eye out for the best deals.
We've compiled a list of the best sales happening on Memorial Day so you know exactly what you should be looking for.
🇺🇸Abercrombie (25% off Select Styles) LINKED HERE
🇺🇸Adidas (25% off all Sale Styles) LINKED HERE
🇺🇸American Eagle (25 – 60% off) LINKED HERE
🇺🇸Banana Republic (40% off) LINKED HERE
🇺🇸Bed Bath & Beyond (Up to 40% off) LINKED HERE
🇺🇸Beddys (BOGO 50% off with SUNNY DAY) LINKED HERE
🇺🇸Best Buy (Lots of deals) LINKED HERE
🇺🇸Best Choice Products (Great outdoor deals) LINKED HERE
🇺🇸Built Bar (10% Off with code BARGAINSISTERS) LINKED HERE
🇺🇸California Baby Pop Up Play Yard (55% off + 10% off with THEBARGAINLLC) LINKED HERE
🇺🇸Carter's (50% off + 40% off Clearance) LINKED HERE
🇺🇸Children's Place (50-75% off) LINKED HERE
🇺🇸Coach Outlet (Up to 70% off) LINKED HERE
🇺🇸Dick's Sporting Goods (Up to 50% off) LINKED HERE
🇺🇸DSW (Up to 50% off Sandals) LINKED HERE
🇺🇸Etsy (Shop small) LINKED HERE
🇺🇸Express (40% off) LINKED HERE
🇺🇸GAP (40 – 50% off + 10% off with ADDON) LINKED HERE
🇺🇸GAP Factory (50 – 70% off + 10% off with GFPLUS + 40% off Clearance with GFEXTRA) LINKED HERE
🇺🇸H&M (Members get 20% off) LINKED HERE
🇺🇸Home Depot (Lots of great deals) LINKED HERE
🇺🇸HSN (Daily deals) LINKED HERE
🇺🇸J.Crew (50% off sale with WEEKEND) LINKED HERE
🇺🇸J. Crew Factory (40 – 70% off) LINKED HERE
🇺🇸Jane (Shop small) LINKED HERE
🇺🇸JCPenney (Up to 50% off Doorbusters) LINKED HERE
🇺🇸Joann (Up to 70% off) LINKED HERE
🇺🇸Kirkland's (20% off with MEMORIAL + Free Shipping) LINKED HERE
🇺🇸Kohl's ($10 0ff $25 or more with TAKE10) LINKED HERE
🇺🇸Liquid I.V. (30% off with THE_BARGAINSISTERS25) LINKED HERE
🇺🇸Loft (40 – 50% off full price items with SUMMER) LINKED HERE
🇺🇸Macy's (20 – 60% off) LINKED HERE
🇺🇸Mentionables (10% off with BARGAINSISTERS) LINKED HERE
🇺🇸Nordstrom (Up to 50% off) LINKED HERE
🇺🇸Nordstrom Rack (Extra 25% off Clearance) LINKED HERE
🇺🇸Old Navy (Up to 50% off) LINKED HERE
🇺🇸Pottery Barn (Warehouse Sale Up to 50% off) LINKED HERE
🇺🇸PURA (Free fragrance with $85 purchase with MEMDAY21) LINKED HERE
🇺🇸QVC (Lots of great deals) LINKED HERE
🇺🇸Rags (25% off with 7YEARS) LINKED HERE
🇺🇸Solo Stove (Up to 25% off + Free Stand) LINKED HERE
🇺🇸Spongellé (25% off Site-wide with MEMORIAL2021) LINKED HERE
🇺🇸Target (Up to 25% off Patio Furniture) LINKED HERE
🇺🇸Tubby Todd (15% off or 20% off $100) LINKED HERE
🇺🇸Ulta (Lots of fun deals) LINKED HERE
🇺🇸 World Market (Up to 25% off Select Outdoor Furniture) LINKED HERE
🇺🇸West Elm (Warehouse Sale Up to 75% off) LINKED HERE
🇺🇸Zulily (Daily Deals) LINKED HERE
See Also: Labor Day Sales 2021