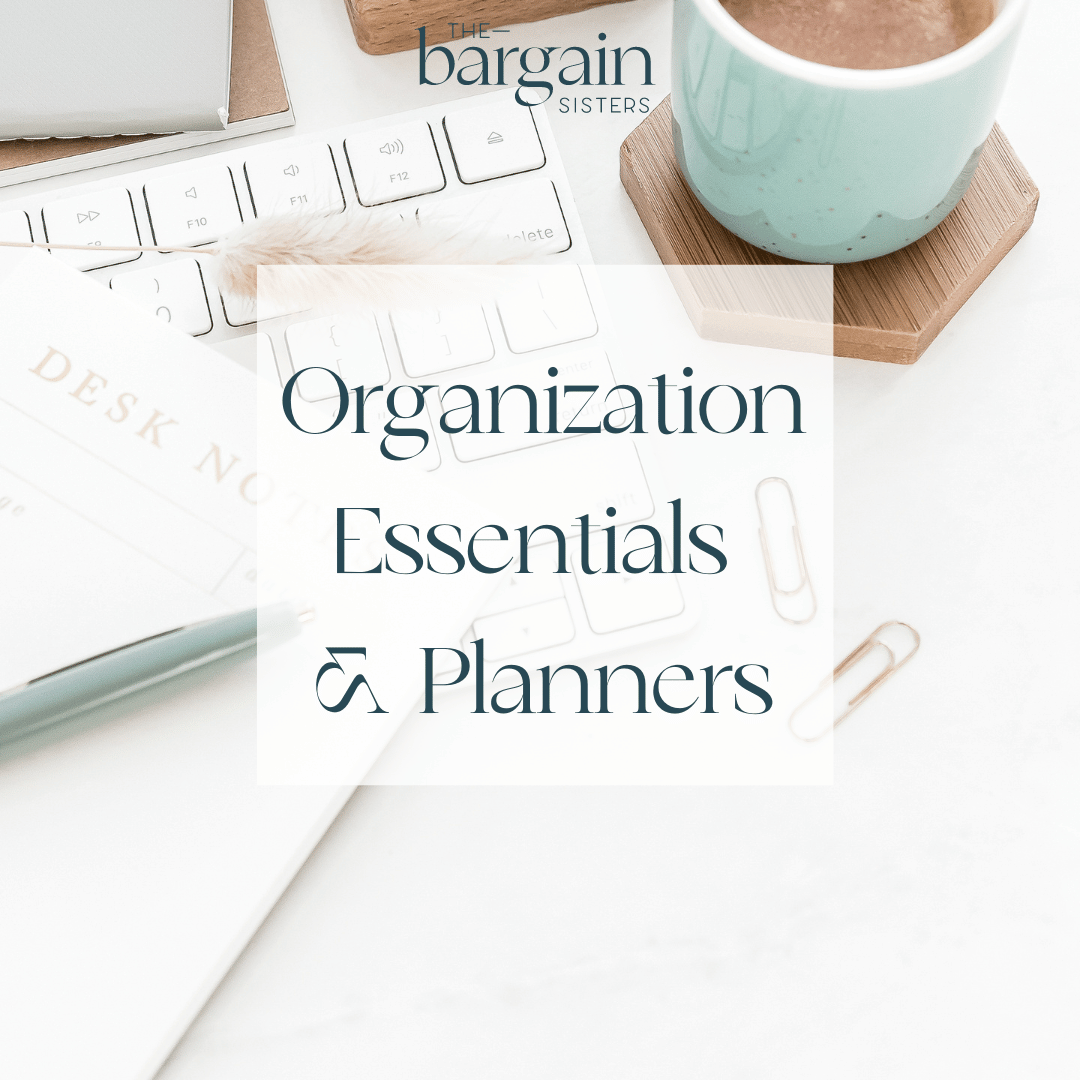 Organization Essentials & Planners
Happy 2023! Let's start off our new year's resolutions and get to organizing. We think that when your environment is nice and organized it helps give you that burst of motivation you need to accomplish your tasks and goals.
We wanted to share some products that can be used around your home and office that are sure to help you feel more put together. We know how important it is to have a clean and organized home and office space, so we found a few items that we think will be a great help when it comes to helping you with your organization goals.
If keeping better track of your finances for 2023 is on your list of new year's resolutions, then we've got you covered. We came up with a list of five items that we think would be very helpful with budgeting and organizing your finances for 2023.
Keep reading and check out these fifteen items that are sure to keep you and your home organized for 2023! Enjoy!
For other organizational products + supplies visit our LTK and Amazon Storefront.
Home
These Rubbermaid food storage containers are perfect for keeping your pantry organized and clutter-free. It's a 10-piece set made up of different-sized containers perfect for storing away your food and keeping it fresh.
Keep the space under your sink nice and tidy with this under-sink organizer. Take advantage of the space under your sink while keeping your items nice and organized. This product also comes with a hanging cup for extra space for brushes or sponges.
This expandable bamboo drawer organizer can be used in your kitchen to store and organize utensils or it could also be used in your closet as a jewelry and accessory organizer. It's very practical and versatile.
5. Label Maker
If you live and breathe organization then you MUST get a label maker. Wanting to transfer your spices and dry goods into cute jars? Use a label maker to label all of your containers!
Office
This transparent acrylic side panel is perfect for adding notes if you're doing virtual meetings or for putting up tasks or reminders. It also works are a dry-erase board where you can write down notes, and it comes with a built-in phone holder!
This wireless charger stand is the perfect addition to your office desk. Charge your phone while you're working or use it as a stand while you're watching videos or on a video call.
Tired of having a messy office drawer? Then these drawer organizers are a must! It's a 25-piece set and comes with a combination of 4 different sizes. They're also non-slip and come with extra silicone pads!
The cable wrangler neatly holds cables on your desk. It's a magnetic pad that attracts your cables for easy organization. It also comes with magnetic collars to increase a better connection between your cables and the wrangler pad.
5. Echo Dot
The Echo Dot is the perfect addition to any room in your house but especially your office. It offers multiple features that are sure to help keep you organized. Such as setting alarms, allowing you to control you smart products with our voice, setting reminders, and so much more!
Budgeting
It's the start of a new year, which means it's time to get a new planner. This daily planner has plenty of space to write down your daily tasks and plans and it comes in this super cute abstract design.
This planner pad makes a great addition to your office desk. This planner is perfect for people who forget to use their notebook-style planner. Keep this on your desk for easy reach and use!
Want to stay on top of your finances this 2023? This Clever Fox budget planner is perfect to reach your financial goals for this year. This planner will help you stay on top of your goals and budget with all of it's amazing features.
This binder would go great alongside the budget planner. This binder allows you to put aside money for future purchases or trips. Think of it as a physical savings account. It comes in several different colors!
Food Storage Containers | Under-Sink Organizer | Bamboo Drawer Organizer | Home Organization Book | Label Maker | Monitor Side Panel | Wireless Charger Stand | Drawer Organizer | Cable Wrangler | Echo Dot | Daily Planner | Weekly Desk Planner | Budget Planner | Budget Binder | Personal Finance Book
More Home Organization & PLANNING tools
For more organization and planning items to get your home nice and tidy, be sure to check out our Amazon Storefront and LTK for the latest items!
---
As always, if we find any screaming deals on any of these organizational items and planners, we'll share them on our Facebook page, our website, and on IG. Also, if you buy any of the products we wrote about, we'd love to see them in your homes! Tag us (@the_bargainsisters) on Instagram or post a photo in our VIP Facebook Group.
Lastly, did you notice anything missing from our list? If there are any organization items or planners out there you can't live without, comment below and let us know.
Happy Organizing!
-The Bargain Sisters, Cassie and Ali
Shop the Post