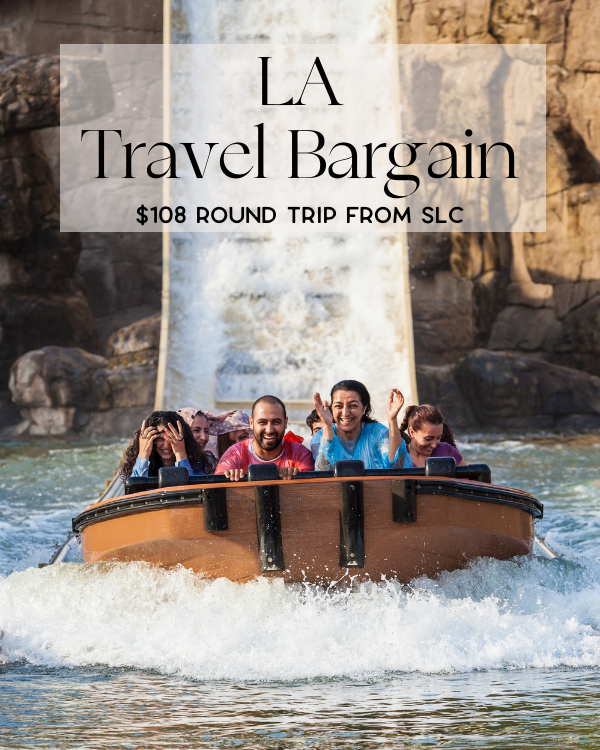 SLC to Los Angeles Travel Deal
This post contains an overview of the SLC to Los Angeles travel deal and provides details about the cost, travel dates, and what to expect on your journey.
Doesn't a Disney trip sound amazing? What about walking on the beach and enjoying the rolling water? OR do you have a fun concert in LA and have been wondering about flights? Well, we found a deal for you.
Right now you can get nonstop flight tickets from SLC to LAX for $108 on Alaska, United, JetBlue, Delta, and American Airlines. These tickets are regularly $175. We are seeing this pricing with travel dates from March to December. These prices won't be around for long so make sure you jump on it now.
How to book
Go to Google Flights
Click "Date Grid" for the calendar view and the lowest prices. The lowest prices are usually in green.
Book the flights. We suggest booking directly through the airline if possible.
Los Angeles Travel Dates with low pricing
Here are a couple of dates we found with low pricing. There are others so make sure to click around.
March: 15-21, 22-29
April: 19-26, 20-27, 25-May 3rd
June: 1-8, 8-15, 15-22, 22-29
July: 12-19, 19-26, 21-28
August: 2-9, 9-16, 16-23, 23-30
September: 7-14, 14-21, 21-28
Let us know if you snag this deal and what you plan to do. We are thinking of taking our family to Disneyland this fall.