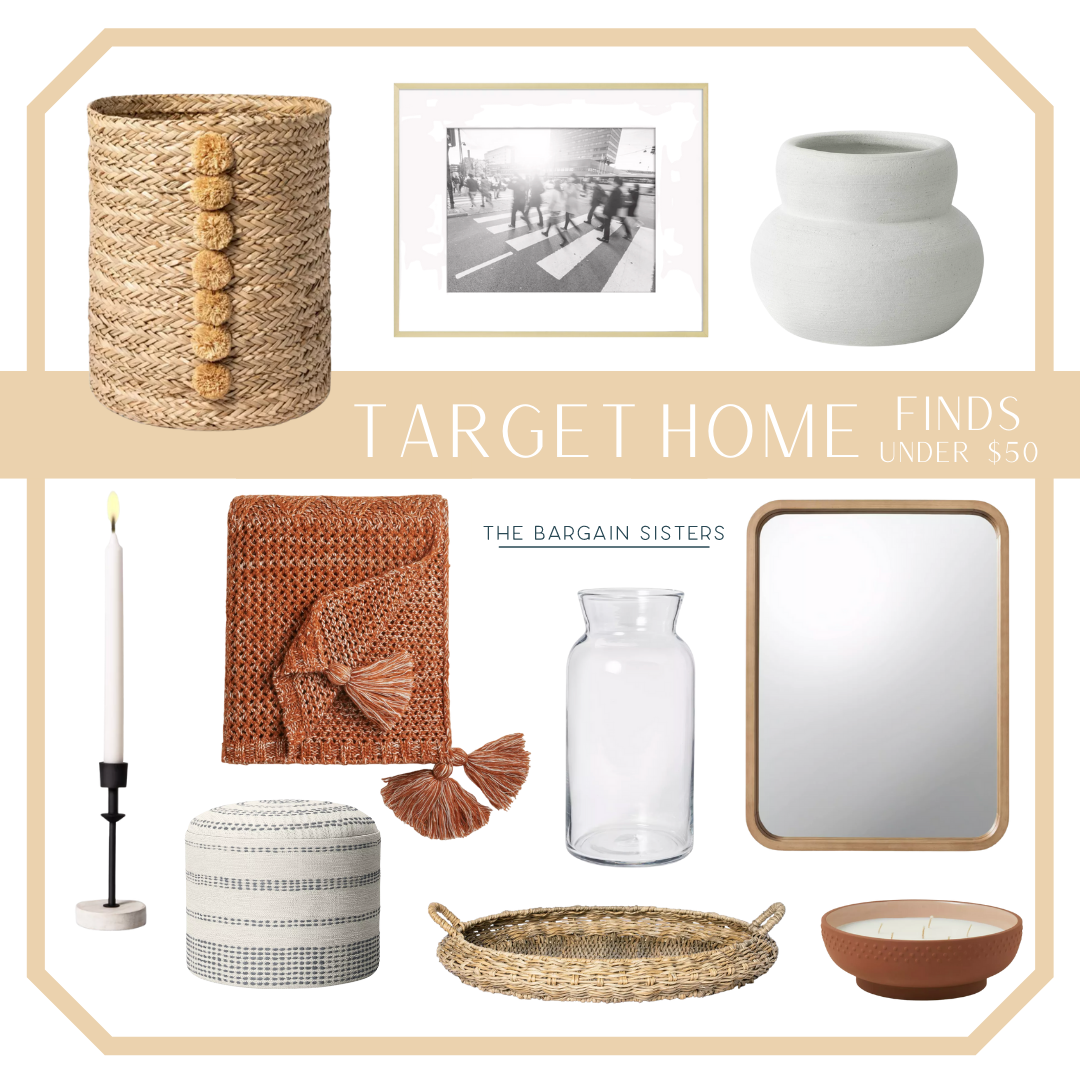 Target Home Decor Under $50
Neutral home decor doesn't have to be boring! We've found budget friendly decor, everything is under $50 all from Target. These decor pieces will elevate any space and seamlessly fit in with whatever palette you are working with. We wanted to showcase different details and textures that spruce up a room without overwhelming your space.
The home designer collaborations at Target offer so many ways to thoughtfully design your living space while keeping an eye on your wallet. Everything from Boho to Mid Century modern to updated traditional can be found to satisfy any taste. Ofcourse a little greenery goes a long way, but you already knew that! Here are the Target finds we are simply obsessed with.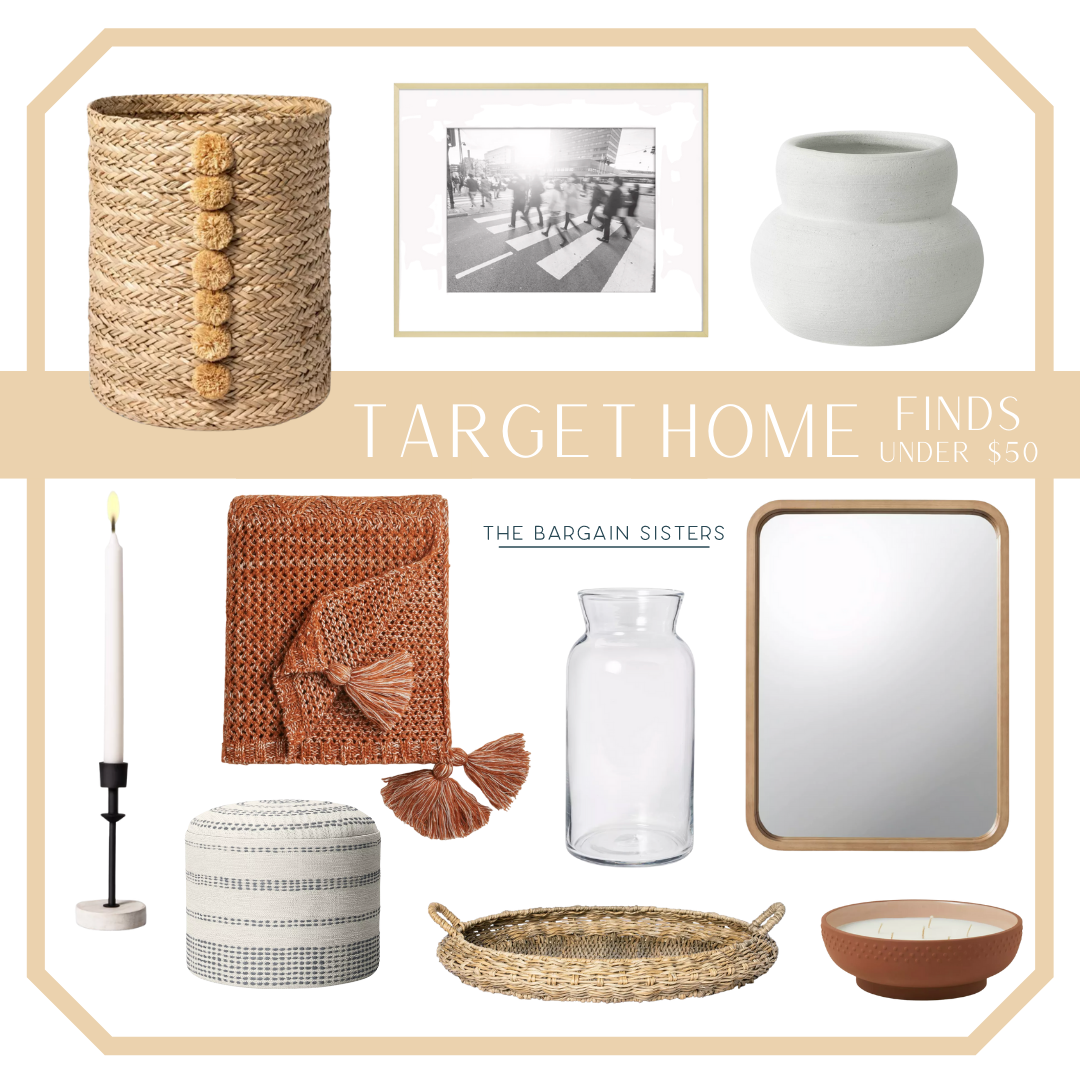 Opalhouse Seagrass Basket– Opalhouse brings all of our boho vibes to life with the chic and effortlessly casual style. We especially love the straw pompoms on this storage basket. Use it for throws, pillows, toys whatever you want out of sight but accessible.
Project 62 Matted Frame– Original Art is a sure way to inject style and personality into any home. These thin gold frames are a great inexpensive way to frame art prints. We love Etsy for finding original work that can either be printed at home or shipped. Our two artists on Etsy with modern earth tone art are OjuDesign and NMinestore you can find prints as low as $5!
Project 62 Textured Ceramic Vase– A home for all your fresh or dried florals or your sprigs of eucalyptus. It comes in two styles and the styling options are endless. We love the simplicity and shape of this mid century accent.
Opalhouse x Jungalow Heathered Throw– You can never have too many throws. We love this classic knitted blanket casually draped over a chair or sofa. It also comes in other desert tones to inconspicuously blend in.
Hearth & Hand Rectangle Mirror– The dimensional style and minimalist frame is what attracted us to this mirror. Perfect for an entryway table or a mantle or just about any wall space.
Studio McGee Wicker Tray– We were head over heels when Target announced their collaboration with Studio Mcgee. The furnishings and decor have preserved that quality of designer goods at a low price. The wicker basket is an outdoor piece but we think it deserves to be indoors too. Style it with your favorite candle and vase with fresh flowers and get that Studio Mcgee look right in your own room.
Hearth & Hand Candle Holder– Candles are a sure way to add scent and warmth to a home. These wood and metal holders look great paired into groups of varying heights. Use them on your dining table, a shelf or a mantle.
Project 62 Pouf– Whether you need extra seating or just want to be extra comfortable there is no better way to achieve this than with pouf cushions. You can easily store them under an entry way table while not in use.
Studio Mcgee Tall Glass Vase– Simple 14in vase is perfect for displaying all the stems as a centerpiece. Place it over a dining table, a console table or anywhere you need a larger piece to anchor a setting.
Opalhouse x Jungalow Terracotta Candle– Mix of jasmine, woodsy, vetiver, rain and rose scents creates the cool and chill scent your space needs to create a total serene and happy vibe. The 6-wick candle burns for up to 22 hours and will make pretty neat bowl to use after.