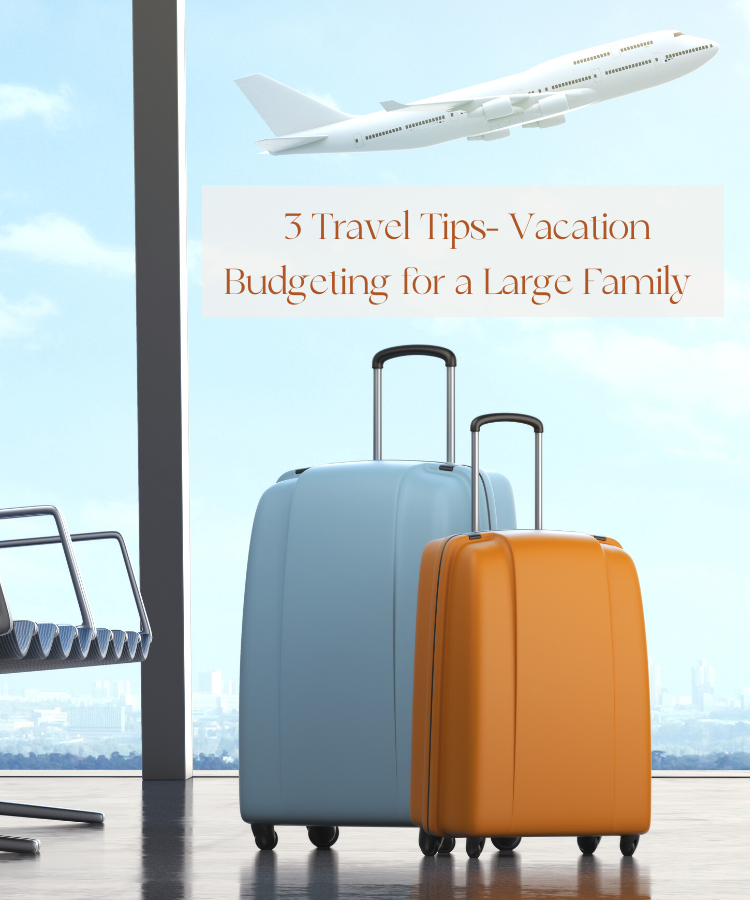 3 Travel tips- Vacation Budgeting for a large Family
Lately, we have been busy finding the cheapest airfare and the most economical vacation packages. We take our name, The Bargain Sisters, very seriously, after all. Have you seen the latest St. Lucia Villa vacation package we found? Naturally, when we budget our flight and hotel we are looking for ways to also save while we are away from home. So, if you are wondering how to save money on vacation, these 3 travel tips for vacation budgeting for a large family is for you!
Just because you've got a large family doesn't mean that you have to skimp on your vacation plans. With a few money-saving tips, you can save money while you're on vacation to help make those dollars spread!
Since we've been traveling with our families for literally forever, we've learned these 3 travel tips along the way that have saved loads of money! Because who wants to spend money when you can save it instead? (Seriously – we get a thrill from getting discounts and saving those dollars!)
Here are some of our 3 travel tips on vacation budgeting for a large family by planning ahead, saving on vacation meals and budgeting entertainment.
1. Create a Vacation budget Spending Planner
Before diving into the tips to save money on travel, let's first identify one of the biggest aspects of budgeting: planning ahead!
If you want to make sure your entire family has fun without feeling restricted, make sure that you have a budget set in your head before walking out that door.
Nothing will ruin a vacation budget quicker than NOT having a budget at all.
Decide on an overall budget for your vacation. Sit down, plan, and then get ready to move forward. Pinterest has a ton of great printable planners to get you started.
Plan the activities, meals, entertainment and transportaation into your budgeting. Once you have a clear list of expenses, you can set a budget spend for your trip.
2. SAVE MONEY ON VACATION MEALS
Meals will put a big dent in your pocketbook quickly! Eating out can be expensive, especially on resort property.
If possible, book a room with a kitchen so you can prepare small meals like breakfast and a quick lunch prep in the room. Typical hotel buffets can cost upwards of $20 per person, so skipping restaurants and dining in can help tremendously.
Hit the local grocery market and stock up on essentials and snacks! Visit local restaurants for a special dinner out. The touristy places tend to be the most expensive but necessarily the best. A concierge is always helpful with recommendations.
Road trippers, listen up. If you're traveling in the car, use that space! Pack a cooler for drinks and food items so everyone can have something handy on the road.
(This is also a sanity saver tip as well. We've noticed that the kids don't scream or fight nearly as much if they have their own snacks to worry about!)
If you have little ones in your family, you can also give them lunch bags full of snacks. This is a super fun way for kiddos to be in charge of their snacks and to eat them when they're ready! Also, fill up their water bottles.
Speaking of water – don't pay for it! Those stops at the gas station are so tempting to run in and grab a bottled water, but those add up fast! (Plus, you're buying plastic that isn't good for the Earth, either.)
3. Plan big entertainment expenses
Sure the hotel may have amazing amenities but if you are visiting a new place, the best adventures are sometimes outside of the resort. You can find ample ways to save on meals but activities on site and nearby like tours can be pricey.
Sunset sailing tours, a local museum gem, snorkeling cruise or a show are exciting and fun for the whole family. We've got some tips on saving on these too.
Firstly, the hotel will have plenty of activities that will take you on an adventure and these tend to be the most expensive (hello, hotel partners!) Research local tour guides that do not leave from the resort property. These are always lower priced and usually pick you up one or two hotels over.
Secondly, find what your vacation spot is known for. Identifying what makes your town or city special and unique gives you an idea like museums or local cultural shows you'll want to hit while you are there. Check out their free kids admission days or any discounts they may offer way ahead of time.
Lastly, decide what is worth splurging on. Plan for the fancier restaurants, the big ticket entertainment and so forth. There are just some places and things to do you just might not want to miss.
Once the trip starts to come together, you're going to be amazed at how affordable vacation can really be. And just remember – the kids are going to be happy with ANYTHING on a trip. Spending the day at the hotel pool (that you've already paid for in your lodging costs!) is a fun way to let the kids have a blast AND not spend any more money, either!
Check out our Travel Deals for last-minute airfare deals and our Family Travel tips for more of our expert travel hacks for a fun-filled vacay. Let us know which tip you found the most helpful too!