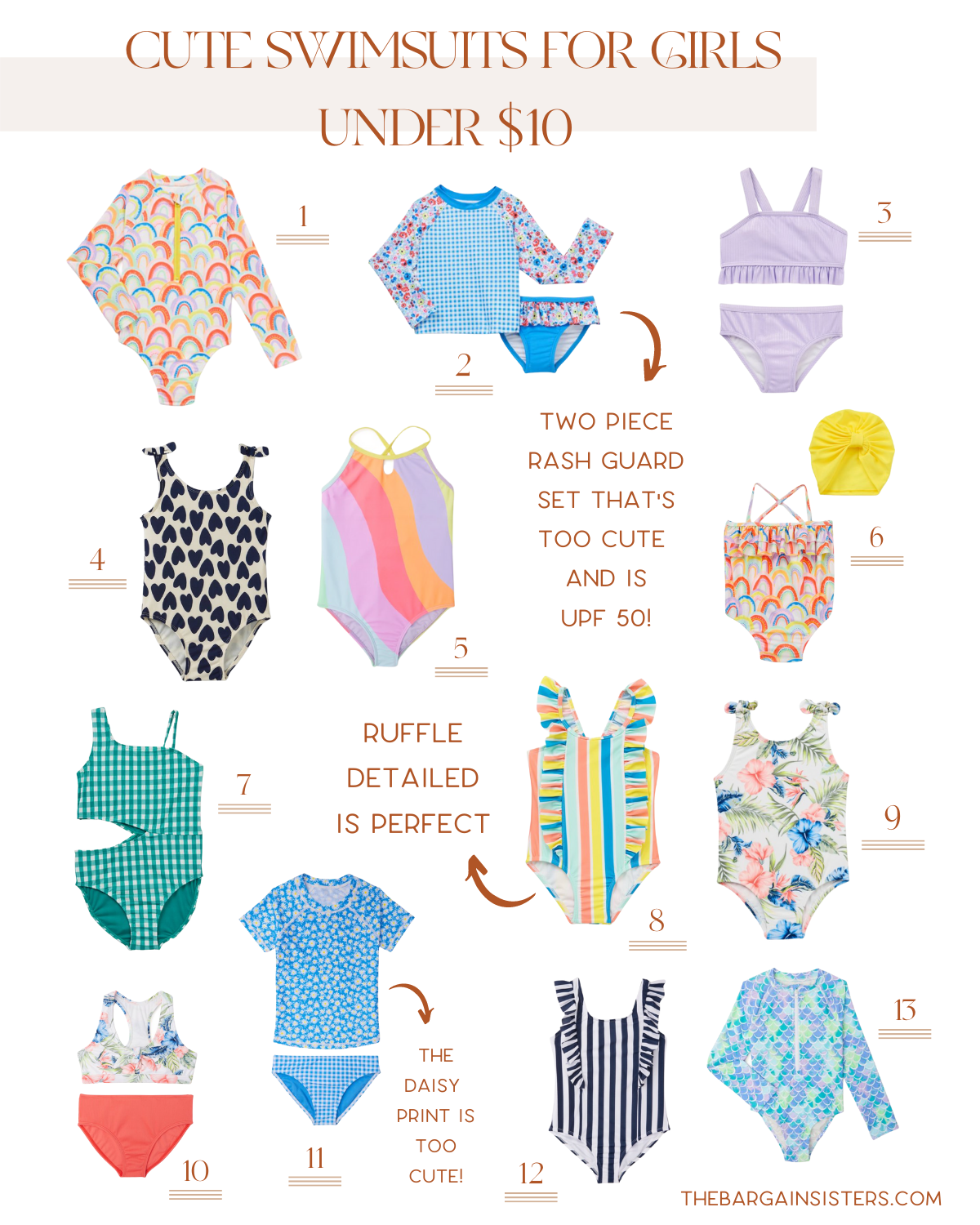 13 Cute Swimsuits for Girls Under $10
It's that time of the year—time to start planning for vacations, pool days, and beach time. And, since our kiddos are growing like weeds, we can't justify spending more than $10 on swimsuits for them. To that end, and since we have children from infants to teenagers, we rounded up 13 cute swimsuits for little and big girls, all under $10.
What's more, you've been asking in The Bargain Sisters group and DMing us @the_bargainsisters for more kid's clothes under $10 and since you don't call us The Bargain Sisters for anything, this was our first response! We have more fun posts in the under $10 category on the way. In the meantime, check out these cute baby clothes under $10 from H&M.
Be warned, these kids' swimsuits are so cute, you may end up adding multiple to your cart. Plus, some of them even come with swim caps. SWIM CAPS. As always, we'll be sharing any extra savings we spot on Facebook and Instagram, so be sure to follow along there. Now, for the cute suit lineup.
Toddler girl swimsuits under $10
How sweet is this set? We love that it comes with a swim turban. Babies are especially vulnerable to harsh rays, so this set is major at just $8.98! 0-12 months.
Gingham is just so classic and this set could not be cuter! It comes in sizes 12 months all the way up to 5T, which would be great for matching sibling photos. UPF 50 and $9.98!
The tiny bow detail on the shoulders of this girl's one-piece swimsuit is almost too much! You know, in the best way possible. Consequently, you may have to get it in a few sizes (comes in 12 months to 5T). $8!
While we're on the subject of bow shoulders, this tropical toddler one-piece suit is a great option! We love the pink and blue hibiscus flowers that are calling in your next vacation. Also, if you're looking for great deals on where to take a suit like this, check out our Travel Deals page here (we suggest bookmarking it, honestly). Get the suit for $8.98 in sizes from 12 months to 5T!
Is there anything cuter than a little girl in a bikini? We can't get over their little bellies! Anyway, we're finding a lot of great bathing suits for girls at Walmart and this is a super-versatile option, especially for the purple-loving girls in your life. $8.98 and 12 months up to 5T!
If you liked the rainbow one-piece above, you'll love this toddler girl rash guard in the same print! This would also be a cute option for siblings if you like them to wear them something similar, but not exactly the same. UPF 50, $9.98, and available in sizes 12 months to 5T!
Summery stripes and sweet ruffles for the win! We were super-quick to add this little girls' one-piece from Walmart to our carts. It's available in sizes 12 months to 5T and rings in at $8.98!
Little girl swimsuits under $10
This long-sleeve one-piece girls' swimsuit from Walmart comes in four different prints! We love the zipper front that makes it easy to get on and off. What's more, it's UPF 50 and comes in sizes 4-18 (plus sizes, too). $9.98!
How fun is the "shark bite" cut-out on this cute girls' swimsuit from Walmart? The gingham is super-fun, too! It comes in sizes 4-18+ and features removable pads in sizes 10 and up. $9.98!
Classic and cute all in one girls' one-piece swimsuit! Additionally, this girls' swimsuit from Walmart has matching adult and boys' options as well. Get ready for poolside family photoshoots! Comes in sizes 4-18 and just $9.98.
Remember the toddler swimsuit with this fun hibiscus print we mentioned earlier? Well, consider this her sister! It comes in sizes 4-18 with removable pads in sizes 10 and up. $9.98!
When it comes to girls' UPF swimwear, Walmart has really been hitting it out of the park. Are you swooning over this daisy print as much as we are?! Also, this is a UPF 50 set that comes in sizes 4-18. Just $9.98!
Colorful and retro barely covers it, but woweee do we love this girls' swimsuit from Walmart! If you're raising girls who love color, too, they will be all over this option. Moreover, it's just $9.98 and comes in sizes 4-18.
Okay, phew. That's a lot of suits, huh?! Which ones caught your eye? Which ones did you add to cart? If you grab any of these suits and post them on your social media channels, be sure to tag us and add #thebargainsisters to your posts so we can see your girls rocking their cute suits.