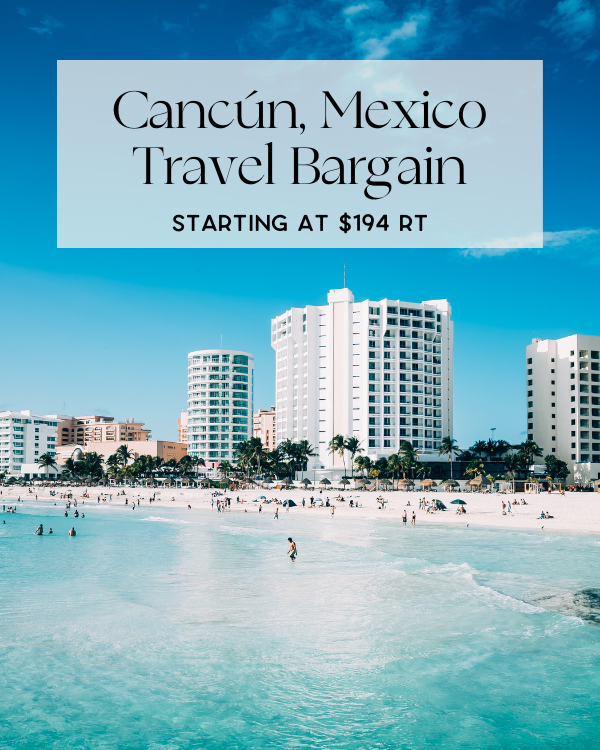 Cancún, Mexico Travel Deal
In this post, we describe the Cancun Mexico Travel deal of 2022. Summer is here and this is your sign to treat yourself to a vacation! Just picture yourself with your feet in the warm sand, sipping on your favorite beverage with the teal ocean as your view.
Right now we are seeing roundtrip flights to Cancun for as little as $194 with American, United, Aeromexico, and Delta. Book your flight during these travel dates (July 2022 – May 2023) and get ready to enjoy the sun! This deal will last most likely less than a week.
How to book
Go to Google Flights
Change the city you want to fly out of. Click on "Date Grid" to see the calendar view and the lowest prices. The lowest prices are usually in green.
Book the flights. We suggest booking directly through the airline if possible.
cities and prices
Baltimore $305
Charleston $313
Chicago $269
Denver $246
El Paso $307
Fort Lauderdale $243
Hartford $313
Honolulu $473
Houston $194 *nonstop*
Jacksonville $311
Kahului $473
Las Vegas $301
Miami $228 *nonstop*
Milwaukee $305
Nashville $279
New Orleans $267
Pittsburgh $291
Reno $307
San Antonio $305
St. Louis $288
Washington D.C. (DCA) $313
Washington D.C. (IAD) $313