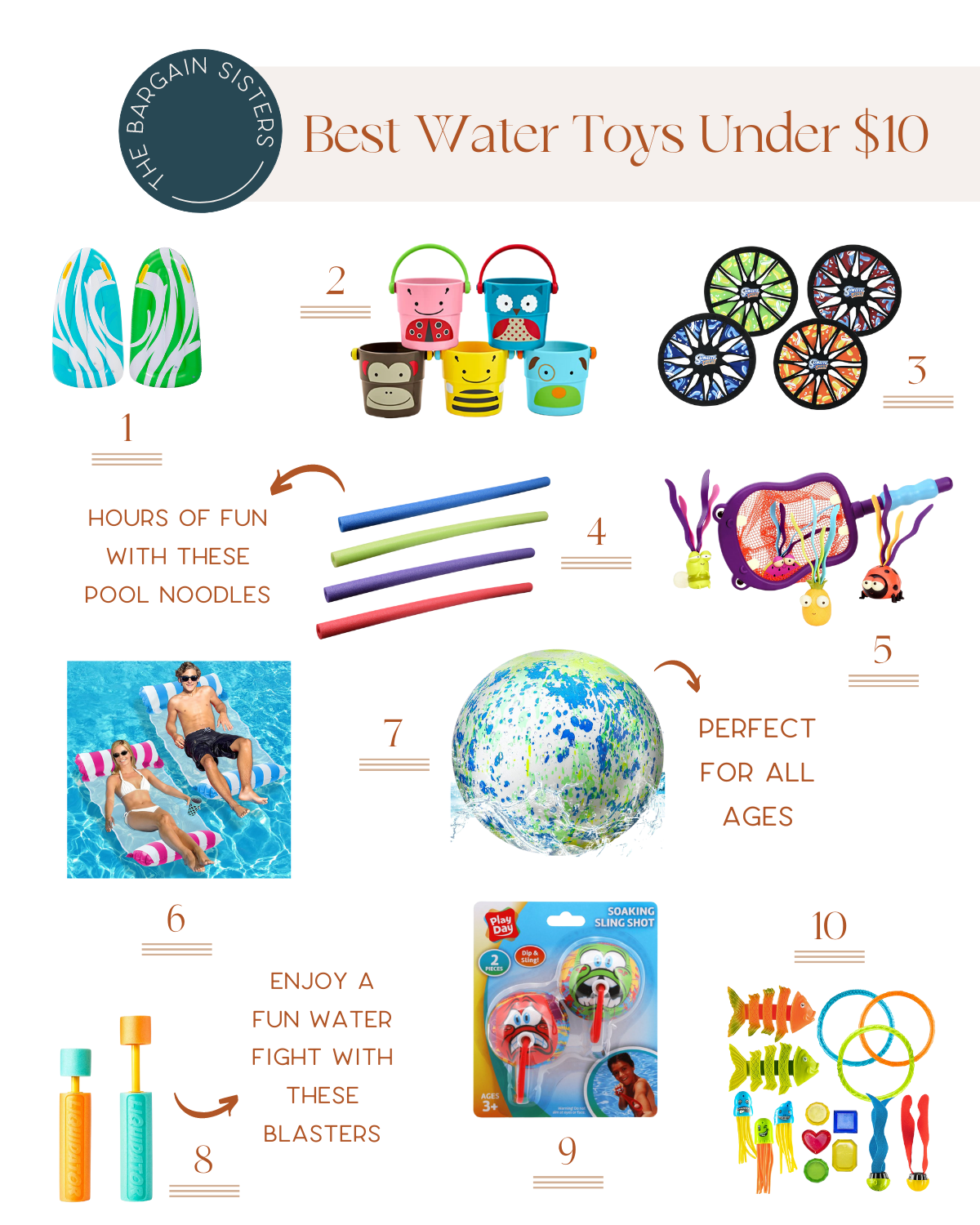 The 10 Best Water Toys for Kids under $10
Summer weather is here to stay in the South and we're spending as much time as we can outdoors. The more our kids play in the water, the more we thought about how we can keep the good times rolling, which inspired us to put together a list of our picks for the 10 best water toys for kids under $10.
As you may know, we are sisters, so we're always talking to each other and swapping ideas—especially when it comes to keeping our kids entertained. With school out and so much outdoor time in front of us, we put together our guide to Amazon's Best Outdoor Toys & Games for Kids, too. From laser tag to a backpack water gun with a cute animal design, your kids are going to go to bed absolutely exhausted, you know, in the best way.
In this 10 best water toys for kids under $10 roundup, you'll see some of the things we swear by (hello, diving sticks, you trusty old friends), along with some things we added to our own carts, like inflatable pool loungers.
Settle in and start scrolling—this is a fun one! And, as always, we'll be watching for deals on everything listed here. Join us on Facebook in The Bargain Sisters Group where we share up to 200 deals a day, and on Instagram, @the_bargainsisters, where we share the best of the best on our stories.
Now, onto the finds!
Diving Toys
It's always fun when a bunch of the best water toys for kids come in bulk, and this set is ideal for your little divers. For $9.99, you get 15 different bright-colored toys, including 3 diving rings, 3 funny-faced octopuses, 2 diving balls, 2 diving fish, and 5 jewels. This set also includes a carrying bag for easy transport!
Water Frisbee
One frisbee can lead to hours of entertainment! It'll be a surprise what color arrives at your house. There are four colors and they're picked randomly. Your family can have fun guessing before it arrives. Importantly, each frisbee is lightweight, durable, and waterproof. Watch out because if your house is anything like ours, dad might hog it. $9.99 each—consider getting at least two because of the dad factor.
Water ball
Okay, your whole family may battle over this super-cool pool ball. It can be dribbled like a basketball underwater. We can only imagine the ensuing TikTok videos we're going to see from your pool parties! Inflate with water or air, combine with other pool toys to make an obstacle course, and play all day. $9.99!
Water Cannon toy
Every water play day needs these water cannon toys. Firstly, the colorful blasters shoot water up to 35 feet. Secondly, they come in a two-pack. And, thirdly, they're just $10! What are you waiting for?
Stack and pour buckets
As far as we're concerned, Skip Hop can do no wrong, and these Stack and Pour buckets are the perfect example of that. Not only are they cute but they're also tons of fun. These nesting buckets feature 3 different sprinkle effects, and because they're stackable, they're easily stored. The 5 buckets with easy-to-grab handles ring it at just $9.99 for the set.
Diving set with Net
We're going on a mission! And that mission is to dive and scoop as much as we can into the net. Who can get it done the fastest? $9.99 for 4 weighted diving toys and the mesh net!
Inflatable boogie boards
As far as the best water toys for kids go, boogie boards are always at the top of our kids' lists. This set comes with two inflatable boogie board options in fun neon colors. If you're a read-your-book-by-the-pool type like we are, you may have to sit at a safe distance from the splash zone since they'll be practicing their kicks all afternoon. We love the handles on them, too. At $21.99 for the set, each inflatable boogie board is just a little over $10.
Bulk pool noodles
If you know us, you know we love to buy in bulk, and pool noodles are no exception. Grab these brightly-hued, 47″ pool noodles for $1.25 a pop at Dollar Tree! They are the OG of easy water time and sure crowd-pleasers. You may just have to be conscious of the kids using them as swords or bats, which always seems to happen close to the witching hour.
Soaking Sling shot
You're going to hear a lot of happy squeals when they start playing with this soaking slingshot. First, they'll soak the fabric-covered foam ball in the water. Then, they'll grab ahold as they pull back on the launcher tongue. Finally, they'll let go of the ball and watch it sling and land with a splash. Just like with the boogie boards above, you'll want to remove yourself from the splash zone if you're not ready to get in on the fun. $5.43!
Inflatable pool loungers
Close your eyes and imagine yourself floating in bliss, the water lapping around your fingertips, which are dipped into the pool water. You feel a light breeze and hear birds chirping around you, a lawn mower working in the far distance. That may not be possible while the kids are around, but next time they're at the grandparents, it's on. This set of two inflatable loungers is just $16.99 (a little over $8 each!). And, okay, maybe you can share them with the kids sometimes, too. Or not. The choice is yours!
So, how do you like our picks for the best water toys for kids? So much goodness, huh?
Do you have any of them already? We can't wait to see all the fun you have playing at the pool, lake, or beach with all of these water toys! Tag us when you're outside (@the_bargainsisters in case you forgot) and we'll bring the party to our Instagram stories.
Enjoy the sun!