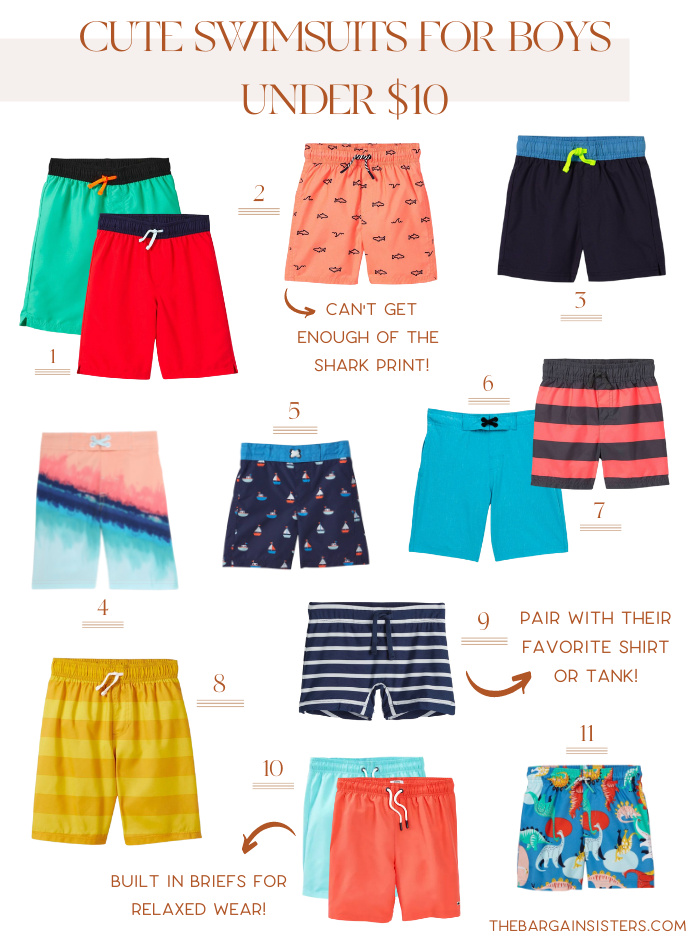 11 Best Swim Trunks for Boys under $10
The swimmin' season is back upon us and, sure, we are ready mentally, but we're not quite there with our gear. Thankfully, we are The Bargain Sisters, and finding the best of the best on the cheap is our game. So, we did what we do and rounded up the 11 best swim trunks for boys under $10. If you're like us and can't justify spending much on a piece of clothing that will be worn maybe for a few months, keep reading.
Also, before we get too into the finds, we have to remind you that we keep our eye on every item you see there. That means that if we find an even better deal on any of these boys' swim shorts, we'll share them in The Bargain Sisters Group and on our stories on @the_bargainsisters. Follow us in both places!
Lastly, if you have any girls in your family, check out our post for them. We rounded up 13 Cute Swimsuits for Girls Under $10 and we're still swooning over all the cute styles we found—at total steals!
Okay, back to those cute kids' swim trunks.
Toddler Boy swim trunks under $10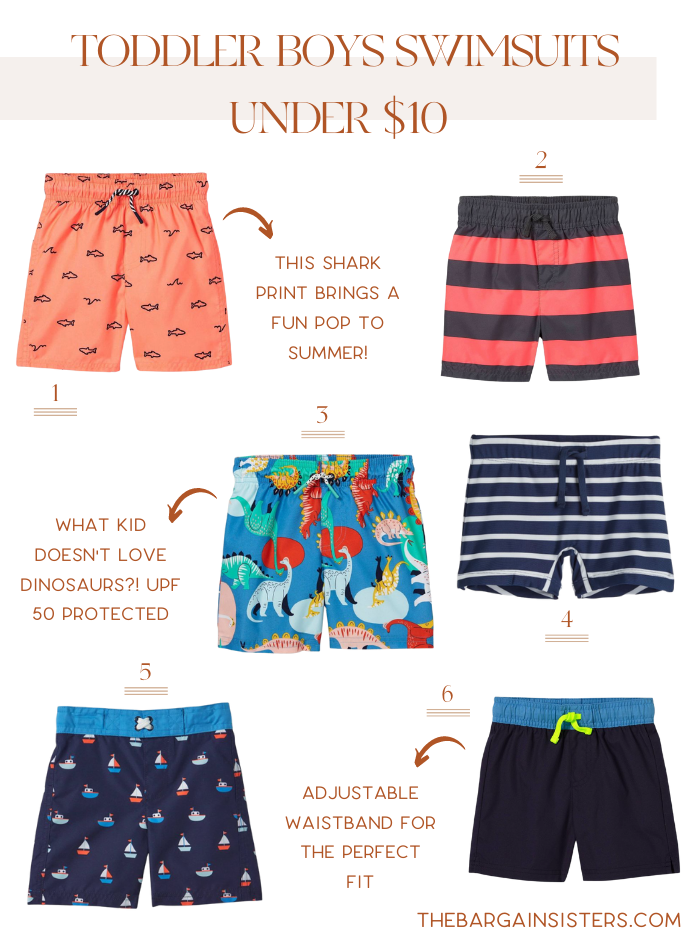 Few can resist a sweet little sailor, and who could blame them? These Target boys' trunks from our favorite, Cat & Jack, are UPF 50+, made from 20%+ recycled materials, and come in sizes between 12 months and 5T. And, they're just $10!
If you know us, you know we love the $10 and under kids' clothes at H&M. We even have a blog post dedicated to our finds for babies! We love the European vibe of these boys' swim shorts that come in two color/pattern combinations. They're a little tighter than traditional swim trunks and the material is super-stretchy. Sizes range from 2T-10. Best part? They're just $5.99!
These classic Target boys' trunks have a fun neon pop that helps them stand out. They come in sizes 12 months to 5T and are made with recycled materials. The full elastic waistband and drawstring give them a secure fit. $8!
Got a dino lover in your house? These are the kids' swim trunks for them! The trunks feature a few different types of dinosaurs (we're sure your boys know their names better than we do) and they come in sizes 12 months to 5T. $10!
The subtle shark print against bright coral might these Target boys' trunks a whole lot of fun. No wonder they made our list of 11 cute swim trunks for boys under $10! Additionally, they have built in briefs for relaxed wear. Sizes 12M-5T and $10 flat.
Target always does it, but they really did it again with a bunch of cute, striped boys' swim shorts for around $8. You really can't go wrong! Most come in sizes 12M-5T.
Boys' swim Trunks under $10
He'll be ready for anything (and easily spotted) in these tropical-hued Walmart swim trunks. UPF50+, adjustable waistband with drawstring, and available in sizes 4-18 and husky. What's more, they even have a back pocket. $8.98!
Solid prints never go out of style and these kids' swim trunks are no exception. They come in six different colors and are color-blocked with a different-hued waistband. Available in sizes S-XL, they're perfect for siblings, too. $10!
These solid coral trunks are a must-buy pair of kids' quick dry shorts. He'll take on the water in style for under $8! Sizes 8-20 are available and the shorts come in an aqua hue as well.
Not only do these boys' quick dry shorts come in this double yellow hue, but they also come in blue, green, and grey. Plus, in addition to regular boys' sizes, they are available in husky, too. $10 per pair!
Firstly, these kids' quick dry shorts exclusively at Walmart come in two beachy hues: aqua and coral. Secondly, the material is stretchy and durable. Thirdly, they offer major sun protection with the UPF 50+ material. In sum, they're a must-buy for just 8.98, so add them to your cart ASAP. Sizes 4-18!
Find something you love on this list. We certainly hope so! We want to see them in the wild. Be sure to add #thebargainsisters on both Facebook and Instagram. Whether you're playing at the pool, building sand castles at the beach, or just eating popsicles in the backyard, we love to see your kiddos in their suits.
Oh, and if there's anything you want to see from us next, leave us a comment and let us know!
Warm weather, here we come.