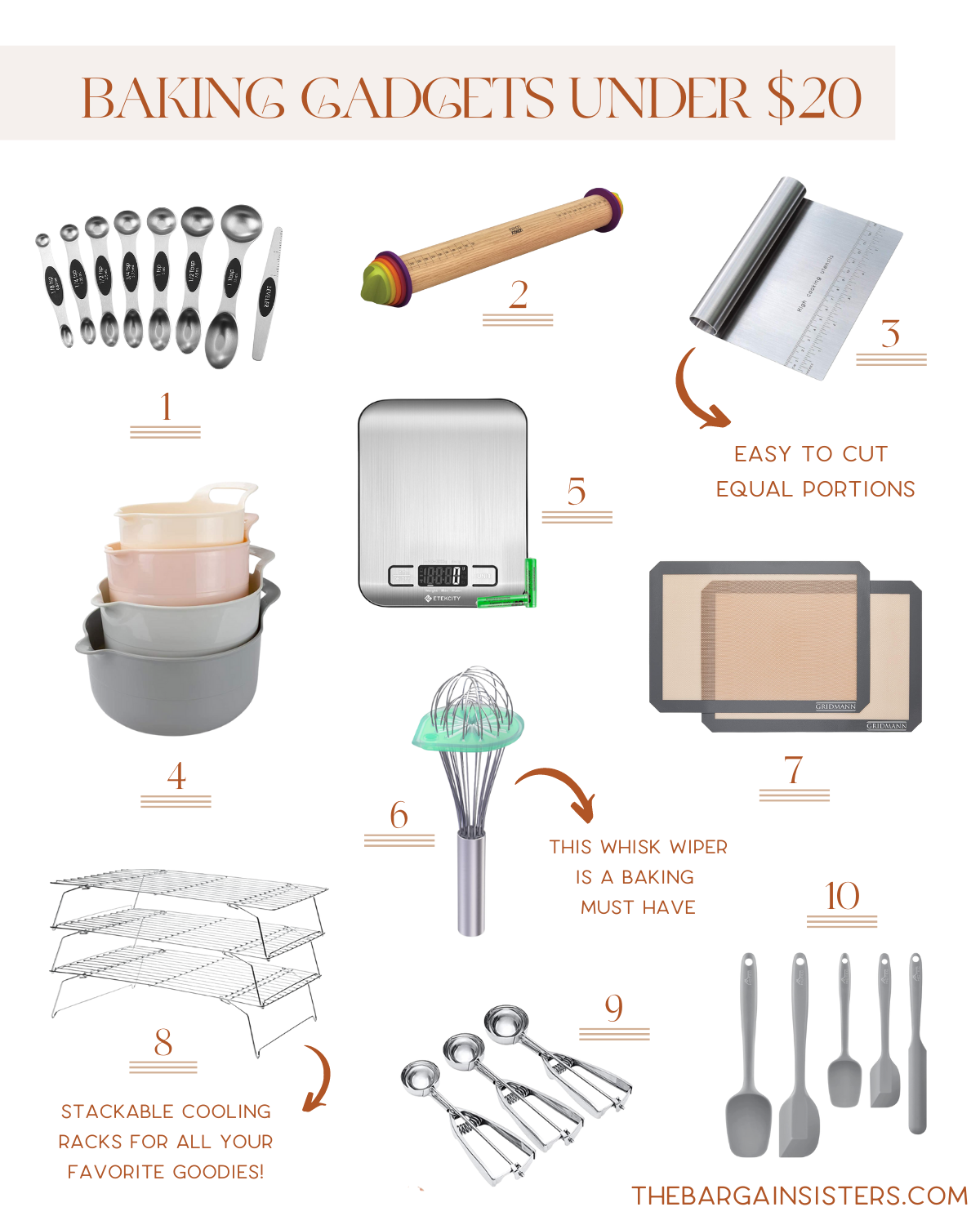 10 Cool Baking Gadgets on Amazon Under $20
Ali is a pro baker and has stocked her kitchen with everything she needs to whip up a whole slew of pastries, and since we are The Bargain Sisters, we thought it was high time to highlight some of her favorites. In this list of 10 cool baking gadgets on Amazon under $20, you'll find must-have baking supplies like silicone mats and fun-to-have for special occasions items like an adjustable rolling pin.
Many of our favorite memories involve baking during the holidays. Our grandma taught us all about the love of baking. Every food she touched ended up delicious. She always knew how to make everything just right. But, we're not grandma and we don't have her touch, so we love that all these must-have baking tools exist to make our lives easier—and baking more fun!
Whether you're making cookies for the neighbors or dinner for the fam, we have so many fun tools under $20 awaiting you. And hey, if you make it look fun enough maybe some "helpers" will find their way to you for some memories and sample tasting.
As always, we'll be sharing deals on all of these baking gadgets on @the_bargainsisters and in The Bargain Sisters Group as we spot them. Follow us to stay in the know!
We love these cool baking gadgets
Silicone Baking Mats
This two-pack of silicone baking mats is oven-safe up to 480F. Upgrade your baking and roasting and turn a half-sheet pan into a non-stick surface. Reusable and eco-friendly home baking essentials. We can't live without these! $9.99 for two.
Ice Cream + Cookie Scoop
While we realize the concept of these scoopers isn't new, we still think they're some of the coolest baking gadgets around. This set comes in three sizes that can be used for everything from cookie dough to ice cream. And, the set rings in at a super-digestible $12.99. No more sticky dough fingers!
Magnetic Measuring Spoons Set
As far as cool baking gadgets go, this set of magnetic measuring spoons is one of the coolest! This set sticks together, so no more losing your favorite in the drawer. Additionally, this set looks beautiful performs incredibly well and lasts forever. Multiple color options, starting at $14.99.
Kitchen Scale
We're not sure about you, but this kitchen scale is one of the best baking accessories we own. It allows you to bake by weight, which is more accurate and creates a lot less mess. Aka, less time cleaning up! Change your life for just $9.99.
Adjustable Rolling Pin
Make everything from pies to pizzas with this adjustable rolling pin. Its removable discs make it simple to roll any dough to your desired thickness. Rolling in at just $18.55 (see what we did there?), this cool baking gadget will be a standout in your kitchen.
Dough Scraper and Cutter
Add this dough scraper and cutter to your baking needs list ASAP! It helps you cut equal portions quickly, easily, and without wrist fatigue. Plus, it's made out of heavy-duty stainless steel and is dishwasher-safe! $6.99.
Mixing Bowls
If pretty mixing bowls aren't a baking essential, we don't know what is. This nesting set stores easily comes in 10+ color combinations, features pour spouts AND handles, and each bowl is dishwasher + freezer-safe. Add this set to your home baking essentials for just $18.99!
Stackable Cooling Racks
Maximize space and time with these stackable cooling racks. The three-piece set is just $9.99. What's more, each tray elevates baked goods, which makes for uniform cooling and crisp undersides. And, don't we all love a crisp cookie underside? Yum!
Rubber Spatula Set
When it comes to spatulas, we love options! Add this 100% food-grade silicone set to your baking essentials rotation for just $12.99! This set of five has smooth, flexible, thin edges, which means no scratches and no damage to your pots and pans. Plus, each piece is temperature resistant down to -104℉ and up to ~600℉.
Whisk Wiper
Rounding out our list of 10 Cool Baking Gadgets on Amazon Under $20 is this handy little whisk wiper. Seriously, could it get any cuter? Or more functional? Pick from seven different colors (or get them all) for just $9.95 each. You'll get cleaning between those wires in no time!
We hope we gave you lots to work with here! We can't wait to see everything you're baking up and how you're using these cool baking gadgets, so make sure you tag us in your posts on social media and add the hashtag #thebargainsisters. What would you like to see our round up next?