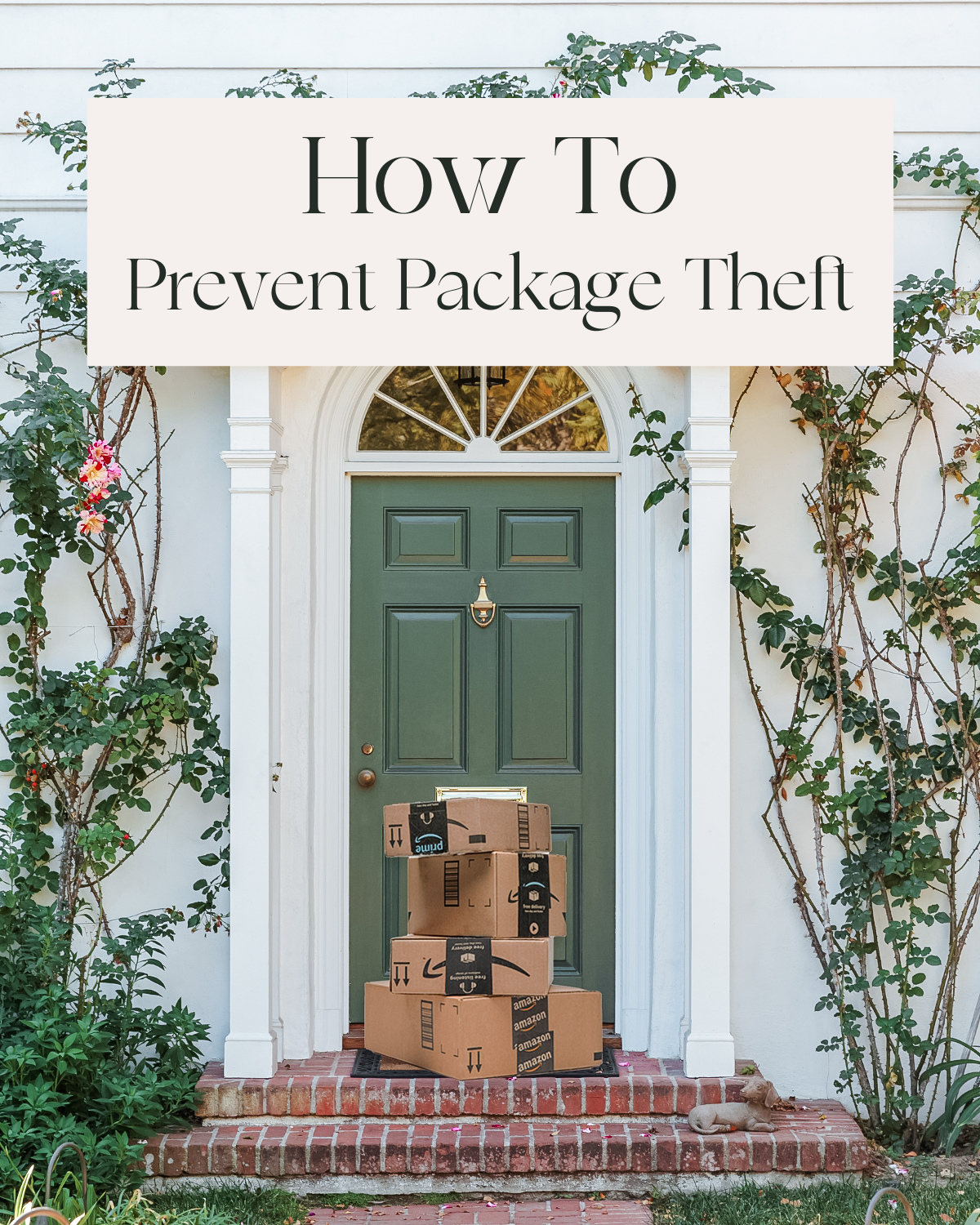 How To Prevent Package Theft
We may be pros at finding deals, but we also realize that getting the deals to your house is a whole other layer of the process. We wanted to help complete the process by writing down our tips on how to prevent package theft with these handy tips and products. Yep, this post has been a long time coming!
With more and more people ordering online (we're talking $214.6 billion spent on e-commerce sites in Q3 of 2021, with a huge spike expected for Q4 because, well, holidays), packages are getting dropped off constantly. To that end, it's likely you're getting multiple drop-offs from USPS, UPS, FedEx, Amazon, DHL, etc. throughout the day. That's a lot to track! And, since robots and drones aren't dropping off every package just yet, there is an element of human error at play. Packages could go to the wrong houses or, in the worst-case scenario, get nabbed right out from under your nose while you're inside minding your own business. To boot, this is all especially scary when you're getting big-ticket items with logos all over the box. Some things just scream "STEAL MY DYSON," you know?
So, what can you do to avoid porch package theft? Lots of things, actually! Some of these, you may have already considered or done (like getting a video doorbell) and some may be entirely new concepts to you (like Amazon garage delivery). Let's get into it. Here are our four top package theft prevention tips:
purchase a package drop box
If you don't want your packages just lying out on the porch or stoop or wherever, this package drop box will be your saving grace. It comes in three different colors, blends nicely with any outdoor decor, and has a spacious interior that accommodates multiple packages. Plus, adding it to your carrier profiles as a designated drop off, is a great way to prevent stolen packages.
Install a video doorbell
With Blink Video Doorbell, you can have full conversations through your doorbell. First, it allows you to see, speak, hear, and have two-way conversations with everyone who comes to your door, therefore, discouraging porch pirates. Second, it notifies you when someone rings your doorbell (among many other notifications options, which you can turn off). Third, it pairs with Alexa. Fourth, it's a deterrent for preventing porch pirates because they see it and know that they are being recorded. And, finally, it doubles as a home security camera. We post deals on video doorbells all the time, so keep an eye on our social channels to get yours at a steal!
utilize amazon Hub lockers
As Amazon says, "Sometimes, your apartment or home isn't the best place to ship packages." Porch pirates love an apartment complex. We know this from experience. And, package theft is more rampant than we'd like it to be. With Amazon Lockers, you know your packages are secure. Amazon Hub Lockers are self-serve kiosks, usually located nearby—your local 7/11, the hardware store, right inside your town's grocery store. Even better, with Lockers in 900 cities in the US, pick up your packages at a time that's convenient for you. Note, though, that this service is for Amazon packages only. Lifesaver! Find all the details here.
try amazon garage delivery service
Now, this is the newest option, the Amazon Key|In-Garage Delivery Service, may just blow your mind. In addition to lockers, Amazon is always thinking about porch pirates and possible package theft. As a result, they recently launched the option of garage delivery. It's called Amazon Key In-Garage Delivery and it is crazy-cool. All you have to do is add items to your cart, click "Key Delivery" at checkout, and look for the package to arrive in your garage. There's a little more nitty-gritty to setting it up that you can find here. However, trust us: if we can set it up, you can, too! This is a fantastic option for combatting package theft. Plus, you'll have major peace of mind knowing exactly where your packages will be dropped.
In short, you don't have to worry about all the fun things you're ordering going missing. We can help you prevent package theft and protect your packages, so that everything you get from us, you are sure to receive.
Like these tips? We're sharing video versions of them on our Instagram, Pinterest, and TikTok, too. And, as always, join our VIP Facebook group for a steady stream of deals every day!
See Also: 5 Genius Amazon Shopping Hacks